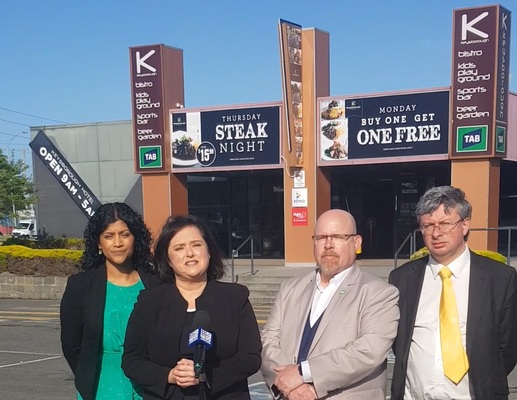 By Cam Lucadou-Wells
Outside Greater Dandenong's most lucrative pokies venue, The Greens have pledged to phase out gaming machines from the suburbs.
If implemented, pokies other than in Crown Casino would be banned within a decade.
Greens deputy leader Nina Springle said that in her South East Metropolitan electorate, more than $570 million was lost on poker machines in the past year.
The seat covers the cities of Greater Dandenong, Casey, Kingston, Monash, Knox and Frankston.
Ms Springle said Greater Dandenong, where more than $120 million had been lost on pokies in the past 12 months, was being "targeted" by the gambling industry.
Keysborough Hotel – the backdrop of the Greens' election pitch – alone reaped more than $18 million from its 89 machines in 2017-18.
"The City of Greater Dandenong is one of the most disadvantaged areas in Melbourne and it has the highest number of poker machines per person in Victoria," Ms Springle said.
"(The gambling industry is) using predatory tactics to suck money from communities least able to afford them."
Under the plan, the recent 20-year pokies licences extension by the State Government would be repealed.
It would be replaced with a six-year licence from 2022-2028.
The Greens would create a $200 million compensation fund to encourage venues to go pokies-free earlier and subsidise more "socially inclusive" programs at clubs such as sport, art, music nights and gyms.
Ms Springle said the fund would help pubs and clubs "adjust their business model".
"It's not aimed at directly replacing pokies revenue.
"It's important to note that the phase out we've proposed will happen over 10 years so it's designed to provide adequate time for pubs and clubs to transition."
She said there were ways for the State Government to wean itself off the annual $1 billion-plus tax revenue from pokies.
The Greens' proposed bank levy and its recycled-container deposit scheme were examples.
The pokies phase-out would be likely to create more jobs, not less, Ms Springle said.
"Gambling isn't a highly intensive employer, and experts believe that reducing expenditure on pokies is likely to increase spending in other areas of the economy."
The State Government nor the Opposition have plans to ban pokies.
A Government spokesman said it was focusing on reducing harm from gambling.
"We know how insidious problem gambling can be.
"We are freezing pokies numbers across the state, limiting daily cash withdrawals in venues and capping the number of pokies in areas most vulnerable to gambling harm."
Community Clubs Victoria is actively campaigning on behalf of clubs with poker machines ahead of November's State Election.
According to a recent CCV statement, anti-gambling changes would eventually cause clubs to be "unviable".
"These clubs are not-for-profit enterprises and operate gaming machines to support their reason for being – be it sporting, charitable, social or community based," president Leon Wiegard said.
He said gaming machines raised taxes for the Government, covered the club's wages and operating expenses and "anything that is left is returned to the community".
"The broader Clubs movement makes an annual social contribution of more than $1 billion a year in Victoria and consisted of community donations, subsidised access to facilities and volunteering."