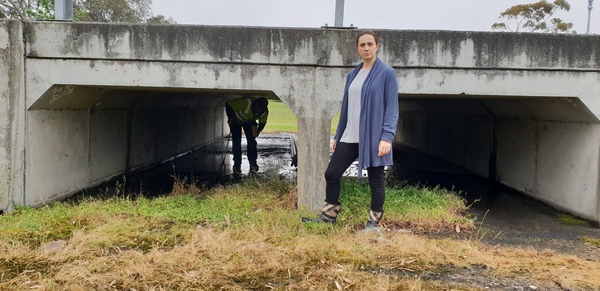 By Cam Lucadou-Wells
Discarded syringes are plaguing parkland next to Dandenong Basketball Stadium but it is unclear what authority will take responsibility.
Resident Lana Formoso, whose family live near the open space, says she's regularly found uncapped sharps under the bridge linking the stadium to Stud Road.
"My kids love to run through the bridge's tunnels," Ms Formoso said.
"So I have to totally detour this area."
She said there needed to be regular clean-ups as well as surveillance of the car park's regular drug deals, public drinking and littering.
Greater Dandenong councillor Jim Memeti raised the syringes issue at a council meting on 12 November.
Two days later, a council worker collected up to seven syringes found under the bridge.
According to the council, it was an act in the interests of public safety, but the area isn't part of its domain.
The bridge and stadium are owned by the council but a council spokesperson insisted the land under the bridge was a floodplain reserve owned by Melbourne Water.
And a Melbourne Water spokesperson insisted – you guessed it – that it wasn't.
The bridge isn't part of Melbourne Water's monthly rubbish and maintenance runs along Dandenong Creek, the spokesperson said.
"However, Melbourne Water removes any syringes reported to its call centre," he said.
"Melbourne Water invests in community education and works with local government to manage stormwater and reduce and remove litter at the source."
The council and Melbourne Water were said to be liaising over the territory dispute.