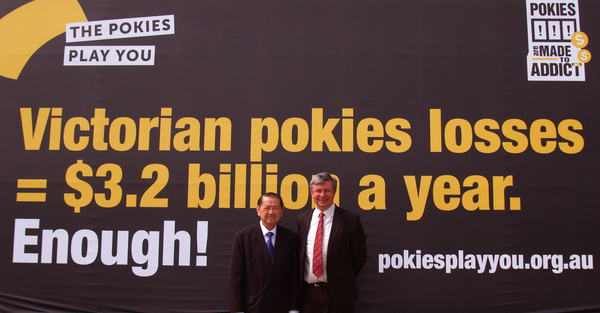 By Cam Lucadou-Wells
Greater Dandenong Council has watered down a proposed gambling policy that would have barred the council holding events at pokies venues.
During a meeting on 10 December, it was revealed that the proposed clause had been removed due to a "majority consensus" by councillors at an earlier briefing.
Chief executive John Bennie said councillors had "strong discussion around that clause". It was then "accordingly" amended by council officers.
Cr Maria Sampey said the removal of the clause exposed the council as "hypocrites".
The council should have followed Monash Council's stronger anti-pokies stance, she said.
But it also baulked at Monash's prohibitions on pokies in council buildings and council land.
This would have directly impacted Club Noble, run by Noble Park Football Club at a council reserve under a 27-year-lease.
Poker machines reaped more than $121 million in Greater Dandenong in 2017-18, creating domestic violence, rent arrears and children going without food, Cr Sampey said.
The council area was one of the most affected by gambling in Victoria.
Cr Sean O'Reilly said the clause would have been the "worst blunt signal this council could send".
"Why would we as a council seek to demonise venues … by saying we are not going to set foot in these venues because they have EGMs?"
Cr O'Reilly said it was better to work with the venues as part of the council's harm minimisation policy.
"These venues pay rates. These venues comply with the law.
"And it so happens that these venues have electronic gaming machines and are subject to all the relevant regulations around that including controlling problem gambling."
Cr Jim Memeti said if it was up to him he'd completely ban pokies, but Noble Park Football Club – which runs pokies venue Club Noble – was "the heart and soul of the community".
He noted that the council was a member of the Alliance for Gambling Reform. There'd been no new poker machines recently introduced in Greater Dandenong, he said.
The new gambling policy advocates for less poker machines in the disadvantaged region and harm-minimising measures such as lower bet limits and shorter operating hours.
It was approved by a majority of councillors, except Cr Tim Dark.
Cr Dark said the council should be supporting many of the venues who "bend over backwards" to do "valuable work in the community".
He cited RSLs as well as Club Noble, which made $542,699 in community contributions including to struggling sports clubs and other groups.
"This is otherwise what the council will be funding."
Cr Matthew Kirwan was ambivalent whether to support the "bland" "unambitious" policy, which lagged behind Monash and other councils.
He said clubs usually donated just 2 per cent of their pokies takings – small compared to the damage caused by problem gambling.
"Cr Dark is effectively arguing we should have more pokies in the City of Greater Dandenong.
"So if we have more pokies we can give more to volunteer organisations, which is a big reversal of council policy."