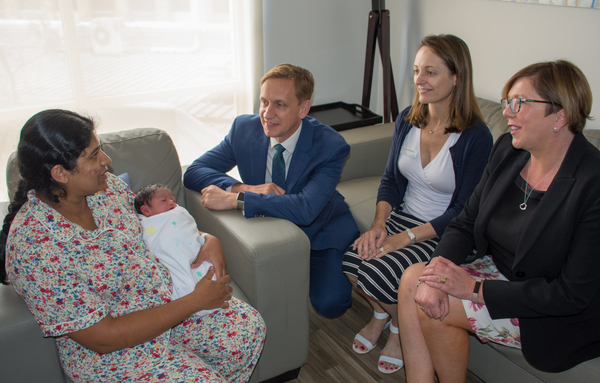 The Federal Opposition has promised to improve health care for the people of Melbourne's south by investing in urgent upgrades to Dandenong Hospital.
Labor's $14.5 million redevelopment of the hospital's outdated outpatient and day treatment facilities will deliver better quality maternity, oncology, trauma, psychiatric and other specialist services for the people of this community.
Shadow Minister for Health and Medicare Catherine King visited Dandenong Hospital on Monday 4 February to make the announcement.
This commitment is part of Labor's Fair Go Action Plan to protect Medicare and fix our hospitals.
"It will mean Dandenong Hospital will be able to meet the needs of the area's diverse and rapidly growing population," Ms King said.
"That means more local residents will receive better and more timely care closer to home – rather than joining long waiting lists or travelling long distances.
"The redevelopment will also will also allow for an extra 20,000 outpatient appointments a year; deliver an expanded range of specialist service types; and improve infection control," she added.
The refurbishment will also create new local jobs.
"Dandenong is one of Australia's most culturally diverse communities, with extensive Aboriginal, refugee and migrant communities relying heavily on Dandenong Hospital for their complex health care needs," Ms King said.
Ms King said this investment would also help ensure a culturally appropriate environment for patients and their loved ones.
"Labor believes Australians should get the best quality health care whenever they need it – no matter if you live in a rich suburb or a disadvantaged one; a safe seat or a marginal one.
"The Liberals on the other hand just cut and cut and cut from health. As Treasurer, Scott Morrison cut from health and hospitals in every Budget he authored," she said.
"His government has cut $23.47 million from the Monash Local Health Network under the current 2017 to 2020 funding agreement.
"That's equivalent to 57,000 outpatient visits or 35,000 emergency department visits."
Labor promises to reverse the Liberal cuts with their $2.8 billion Better Hospitals Fund, which we will use to fund projects like this one.