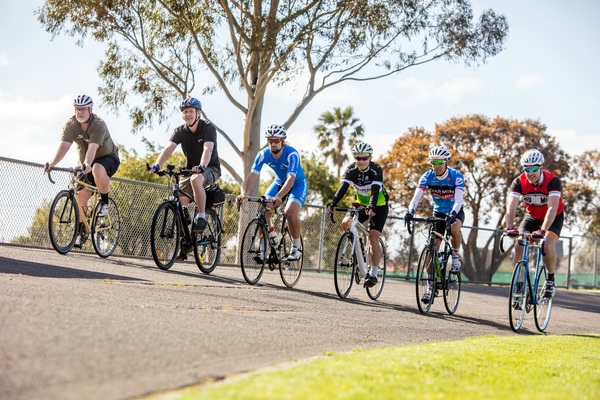 By Cam Lucadou-Wells
A last-minute petition has failed to sway Greater Dandenong Council from controversially fast-tracking the demolition of Noble Park's velodrome.
At a fiery council meeting on 12 March, a majority of councillors rejected a recission motion to stop the project proceeding as early as this month.
The project includes an expanded cricket and soccer ground, a modern multi-sport pavilion and a shared-path at Parkfield Reserve.
Meanwhile, the State Government has indicated it won't intervene to save the cycling track, named after Pedal Clubs of Victoria founder and Noble Park legend Maurice Kirby.
In a letter, Sports Minister and Keysborough MP Martin Pakula stated that "any redevelopment of this facility is a matter for the City of Greater Dandenong".
Cr Matthew Kirwan, in arguing for the recission, noted the petition of 87 neighbours opposing the demolition as well as Save Noble Park Velodrome placards at nearby homes.
"The version of events that this is just outsiders has been proven completely wrong.
"There's plenty of locals angry about this."
The council's "flawed" consultation process had failed to highlight the demolition of the velodrome as part of the Parkfield Reserve redevelopment, Cr Kirwan said.
"It shows there is plenty of support for this velodrome when people are told about it."
Cr Maria Sampey said the council was treating cyclists with "contempt" compared to rival sports.
She shared a letter from Maurice Kirby's family, in which they stated they didn't want his name associated with the replacement shared path.
"His dream was to teach young children to learn to ride bicycles in a safe environment away from road traffic and off the footpaths.
"It's a shame that the only proper paved cycling track in this council has not been maintained properly.
"It would seem the cost of demolition and replacement is a lot more than the cost of repair."
Mayor Roz Blades, in favour of the demolition, said Maurice Kirby would be featured on interpretive signage at the reserve, not the path.
Cr Tim Dark said the community wanted the project.
He re-tabled a 250-signature petition in favour of the masterplan, "99 per cent" of which was signed by locals including Dunblane Road residents.
He lampooned a Change.org petition against the demolition, signed by people living as far away as Queensland, NSW and the USA.
"They're never going to use the Noble Park velodrome.
"Everybody I've spoken to in the City of Greater Dandenong, apart from a few agitators, are in clear support of having the masterplan continue."
Cr Sean O'Reilly, who had originally opposed the fast-tracking but not the demolition itself, said the recission motion was just a "rehashing" of old arguments.
"It's like another episode of Married At First Sight. It ends nowhere."
He said the pro-velodrome petitions didn't give both sides of the story to their signatories.
"If it said 'do you want your reserve being upgraded and invested in', they would sign that petition as well."
It was "really hurtful" to present the council as "against cycling" in light of the decision, Cr O'Reilly said.
"I'm more than open to funding cycling and cycling facilities more."
Cr Kirwan responded that Greater Dandenong had historically invested the least in cycling infrastructure performances in Melbourne.
He said it was telling that no one on the night justified fast-tracking the project outside of budget processes.