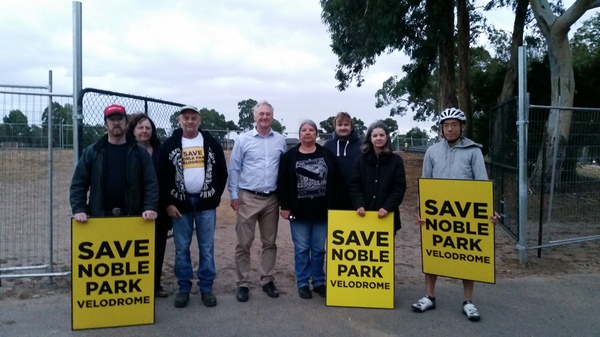 By Cam Lucadou-Wells
The morning was bitter cold as a hardy band of protesters witnessed the demolition of the Maurice Kirby Velodrome in Noble Park.
Police had peacefully removed the eight-person blockade at Parkfield Reserve, assembled before dawn on Monday 25 March.
Protesters then made an eleventh-hour bid to organise a charity ride for children's cancer at the track, in the hope that the inevitable would be postponed.
Protester Mark Dalton said the idea for the ride was formed a week earlier but had not been formally planned.
"We hadn't continued with the formal planning, due to doubts that the track would still exist."
That morning, the group persuaded the contractor to hold off tearing up the tarmac, while he enquired about the charity ride with the council.
The respite was brief, with Greater Dandenong Council ordering for the track's demolition to continue.
"Council was not aware of any event being planned for Parkfield Reserve, nor has any booking been made," Greater Dandenong Council's engineering services acting director Craig Cinquegrana said.
"Works at the site are continuing as planned."
The track, named after sports legend and Pedals Club of Victoria founder Maurice Kirby, makes way for the council's $11 million upgrade of Parkfield Reserve including a shared walking-cycling path.
It will include a multi-sports pavilion that replaces derelict tennis and cricket clubrooms, as well as an expanded cricket and soccer arena.
The plan has been enthusiastically backed by the reserve's soccer, tennis and cricket clubs, who have long endured inadequate facilities.
However, over the past seven months, cyclists had banded vigorously against the plan and fought Greater Dandenong Council to the bitter end.
Backed by Cycling Victoria, they re-formed Noble Park Dandenong Cycling Club and based themselves at the velodrome.
Kim Nguyen took a last ride on the track before its last rites that morning.
"I'm going to ride as long as possible until they make me get off the track," he said.
"We're extremely sad to see it go.
"It's a disgrace and shameful that our local representatives (Premier) Daniel Andrews and (Sports Minister) Martin Pakula haven't come out and said anything about saving the track for the community."
Maurice Kirby's family publicly denounced the demolition, requesting his name not to be associated with the new reserve.
In a Facebook post, Mr Kirby's daughter Gayle George thanked supporters who fought in vain.
"Thanks doesn't seem enough for all the hard work you all did but Dad would be so proud of all your efforts.
"Love, sweat and tears it's a terrible outcome and very disappointing.
"We appreciate all your efforts."
The council has ordered an investigation into building a regional cycling facility. The report is due in July.