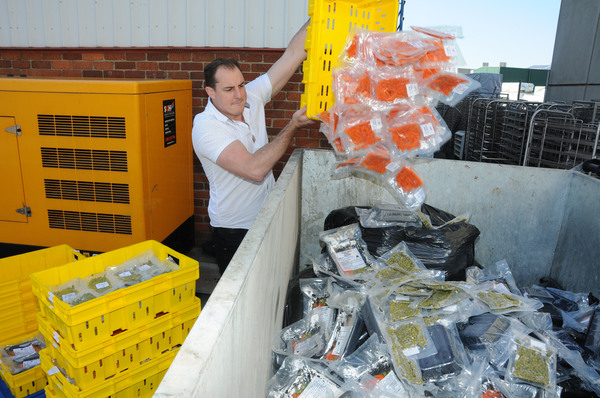 By Cam Lucadou-Wells
A Dandenong South commercial caterer is dumping loads of packaged food as part of a rigorous and costly health-department testing regime.
iCook Foods was recently re-opened by the Department of Health and Human Services (DHHS) after being linked to the death of an elderly hospital patient with listeria in February.
After the 35-day shutdown, the department has ordered that specific food lines are laboratory-tested before going to market.
It applies to the company's texture-modified meals for private hospitals, but not its sandwiches.
The ban and subsequent tests have crippled the 35-year-old family business, which insists it has been wrongfully accused.
General manager Benjamin Cook says by the time the test results are back, the food's shelf-life has expired.
In the first week of tests, 750 meals – about 300 kilos of food – were headed to the dumpster.
"We have to make food to throw out.
"The public sees we're open but the opening is being designed to hamstring us and make us fail.
"No other business in Victoria or Australia has to do this testing."
As a result, the company with 41 staff is set to sue the department and Greater Dandenong Council.
According to iCook Foods, its supply contracts for Meals on Wheels and seven Healthscope private hospitals have since been severed.
A DHHS spokesperson said I Cook Foods needed to show its food was "safe and suitable for consumption by its predominantly vulnerable consumers".
"Effective control of listeria in a food processing environment requires active cleaning and sanitising programs, and monitoring through testing programs.
"High risk ingredients used in sandwiches such as smallgoods should be included in the testing program as part of a supplier verification check."
Products with minimal processing such as sandwiches and salads were not expected to be part of a test-and-hold program, the spokesperson said.
An "enhanced testing program", or "clearance program" was a typical response to such incidents, he said.
"It is recognised that a sampling program can be 'scaled down' provided that results demonstrate that systems are under control and that no detection of Listeria or other pathogen at unsafe levels has been identified in the food produced."
iCook Foods director Ian Cook said there was no scientific evidence that the factory was responsible for listeria.
"(The DHHS statement) makes us look guilty.
"But they took 37 swabs of our factory, they even swabbed our drain and they couldn't find listeria.
"It was only found in smallgoods that we don't produce."