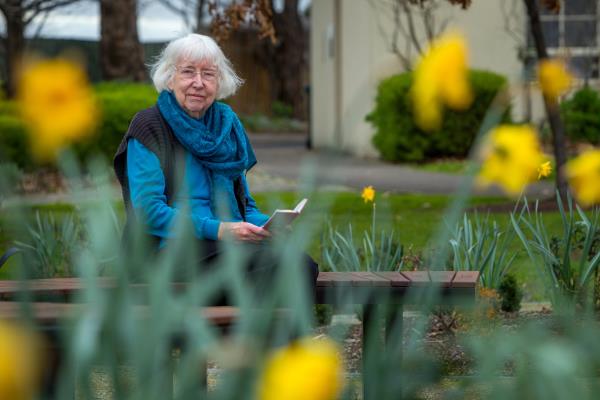 By Cam Lucadou-Wells
A Springvale community trailblazer Merle Mitchell expects "things are going to change" after delivering a powerful public condemnation of her experience in aged care.
Ms Mitchell, 84, appeared via video at the Federal Royal Commission into Aged Care Quality and Safety on 7 May.
She spoke out on understaffing, undertraining, the lack of challenging activities and a lack of empathy since moving to Waverley Valley Aged Care in 2016.
Speaking out is what she has done all her life, she later told Star News.
"Advocating for change is part of what I've done for a long time.
"We've got to make sure all sides of politics take up the recommendations that the Commissioner is going to make."
She has had to learn to accept the regimentation of meals and showers, and the loss of contact with Nature.
"An aged care facility is not a home. It is an institution," her submission stated.
Ms Mitchell says it was a "terrible shock" to move into aged care. There was the sudden loss of her way of life and independence. She couldn't retain all the precious items that he had in her former home.
"It's traumatic for me to not have those things that were part of my regular life.
"I can no longer reach out and grab an atlas if I hear something on the news.
"I can no longer reach out and get my favourite book.
"You lose your choice totally when you come into aged care. And that's one of the things that needs to change."
She told how there was no grief counselling offered when her husband and former City of Springvale mayor Eric Mitchell died. Instead there was an awkward lack of empathy from staff.
On another occasion, she suffered in agony for days yet staff repeatedly told her there was nothing wrong with her.
She was eventually hospitalised for three weeks with crushed discs.
The main problem is staff ratios – just one registered nurse for every 170 residents.
"There are just not enough staff for what needs to be done," she told Star News.
"The number of falls in these facilities is just enormous."
More funding and training is required, as well as better payment of staff.
"If you're a child-care or an aged care worker – both ends of the life cycle – you don't get properly paid."
Ms Mitchell pays an extra $50 a day for "special services" such as a 30-minute exercise class, soup with her meal, and a newspaper.
"It's all about money.
"One of the bad things that we did was to turn all this care into a private industry so it's all about profit.
"Until we stop that we won't get the change we need."
A Greater Dandenong Living Treasure, Ms Mitchell is an aged-care advocate for Council On The Ageing (COTA).
She is involved in a new RMIT-developed training course for care workers.
She is a past director and founder of the Springvale Community Aid and Advice Bureau (now South East Community Links), as well as setting up Springvale Neighbourhood House and the Family Mediation Centre.
She is also a former president of the Australian Council of Social Service.