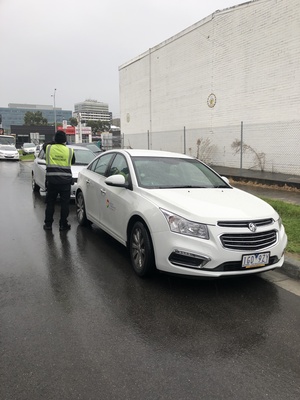 By Danielle Kutchel
A sharp-eyed Dandenong citizen has questioned the rules governing parking officers after spotting one booking a member of the public for parking illegally – whilst also apparently parking illegally himself.
The citizen, who wished to remain anonymous, said the area has limited car parking options for staff and customers.
"Parking officers don't venture down our street too often which is OK because we don't really have a problem with people illegally parking. The parking officers however appear to be quite opportunistic and magically appear if parking is even more limited.
"On the day I took these photos there was a carpark sale on nearby and this sale attracted a lot of traffic into our street and caused a bit of chaos because there is no parking. I don't think I had actually seen a parking inspector down our street at all this year until this day," she said.
Jody Bosman, director of community services at the City of Greater Dandenong said in a statement, "council vehicles used by compliance officers are subject to standard road rules. There is an exemption within these rules which allows for enforcement vehicles to stop in places where other vehicles are prohibited, so they can carry out their jobs."
But the anonymous citizen also questioned the practices of parking officers at other times.
"Last year … the front of our driveways were being re-concreted – our side of the street is a 24/7 no parking zone and on the other side parking is allowed, so when these works were taking place the parking side of the street was fully blocked off by the contractors with witches hats.
"There was actually no available parking for ourselves, staff or our customers. My son parked his car on the nature strip outside our premises; yes it was illegally parked because he needed to load some stuff into his ute but lo and behold whilst he was inside our factory organizing the stuff, up popped a parking inspector who again illegally parked himself and was about to book my son.
"Common sense did prevail on this day and after a little bit of pleading from my son he didn't book him.
"In my opinion the inspectors should not have been down the street booking vehicles whilst these works were happening."