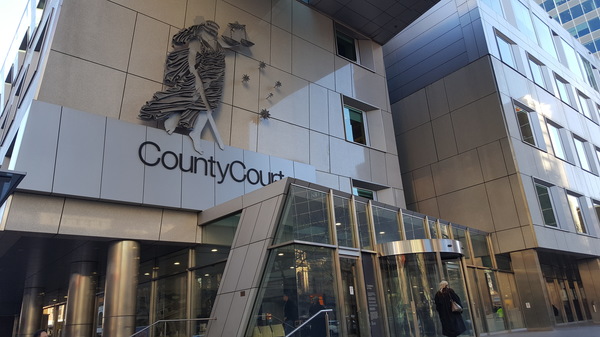 By Cam Lucadou-Wells
A serial criminal, with two mates, has lured his uncle electrician to a Dandenong North unit in an attempt to blackmail him, the County Court of Victoria has heard.
Long-term drug addict Sanjesh Charan, 42, organised the botched plot in which his accomplice Daryl Cropley booked the uncle to perform electrical work at the Hillside Avenue unit on 10 November 2017.
Once inside, the uncle was confronted by Charan and Theodore Alexiou, who forced him to on a chair in the kitchen.
Charan demanded $47,500 from his uncle – who was "as close to a family member as you have in Australia", sentencing judge Richard Smith told Charan on 19 June.
Neither of the three conspirators had any right to enter the unit, and were charged with trespass, the court heard.
Alexiou took the uncle's car keys, and removed the victim's wallet with $1500 and a credit card from the car.
He drove to a Dandenong North ATM, where he unsuccessfully tried to make three cash withdrawals.
Threatened with a knife, the uncle was then driven to a bank, where he was pressured to withdraw money. The teller refused due to the uncle not having his passbook.
Alexiou and Charan drove the uncle to his home to collect his passbook. They waited outside as the uncle raised the alarm with his family.
The pair fled as police quickly arrived. The three plotters were later arrested and remanded in custody.
"Only the quick report by (the uncle's) daughter and the prompt arrival of police to his home prevented more serious offending by you and Mr Alexiou," Judge Smith said.
During police raids, a 0.22 calibre ammunition round was found at Charan's home.
Police seized cannabis, ecstacy and ice as well as a taser, laser pointer and knuckledusters and a stolen number plate, credit card and i-Phones from Cropley's address.
In a victim impact statement, the traumatised uncle wrote he was unable to work nor sleep after Charan's "betrayal".
"Regardless of whether you believed (your uncle) owed you money, your motive for your offending conduct was a financial one," Judge Smith told Charan.
"You decided to take the law into your own hands."
Fijian-born Charan arrived in Australia in his early teens with his adoptive parents. He was said to have had a traumatic and abusive childhood.
When he found out he was adopted, he left home at 15 and started regular drug use.
His adult life was blighted by regular convictions for dishonesty and drugs, and prison stints, the court heard.
Charon was jailed for 31 months, with a non-parole period of 20 months. His term included 580 days in pre-sentence custody.
Alexiou, 49, who had a 40-page-long criminal record including 50 prior burglary convictions, committed the blackmail one day after being released from jail.
He was sentenced to 25 months' jail, with a non-parole period of 18 months.
Cropley, 34, was jailed for two months with a two-year supervised community corrections order including 250 hours of unpaid work as well as drug treatment.