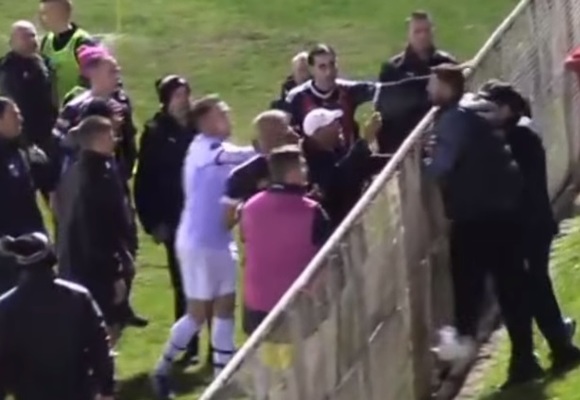 By Cam Lucadou-Wells
Dandenong Thunder has denied claims that its fans were involved in a violent brawl at a Victorian Premier League soccer match in Altona North.
Football Victoria is investigating the scuffle involving dozens of spectators at a match between Altona Magic and the Thunder on Saturday 15 June.
Both clubs say their fans were not embroiled in the fights, instead blaming supporters from North Sunshine Football Club.
The fights erupted just after Magic goaled for a 3-2 lead in the 79th minute, having come back from 0-2.
On live-stream video footage, fans seem to hurl water bottles towards Altona players, and to shout and spit at players and officials over a two-metre-plus security fence.
There were ugly outbreaks of punching and stomping among the clusters of supporters.
Up to five security guards were required to calm the scene and escort spectators out of the stadium.
Thunder president Ronnie Mustafai said he was disappointed that the FV's live-stream video commentary feed wrongly pointed the blame at his club's fans.
Like the Thunder, North Sunshine is an Albanian-based soccer club, which wears the same black-and-red colours.
"They're definitely not our members," Mr Mustafai said.
"The worst part of it was the commentary which stuck our name right on it, without any hard evidence or proof.
"We've made it clear to FV that we're disappointed that our name is being thrown out there."
Thunder supporters had a clean behaviour record for the past seven years due to the club working hard on its fan culture, Mr Mustafai said.
The last infraction in 2012 occurred when a supporter fired flares at a grand final that injured two children spectators. The club was fined $40,000 by the league's tribunal.
Mr Mustafai said that the club would punish any of its supporters if they were involved in the Altona brawl.
"We're relieved that our supporters aren't involved, but disappointed with what happened on the night.
"We work hard in making our home games as family-friendly as possible.
"We're working with the authorities so that – whoever they were – they get caught and punished as they deserve."
Video footage shows Altona players verbally clashing with a mob of fans behind the player bench.
Victoria Police officers were called to the venue, speaking to "several parties who did not want to make a complaint".
Two people suffered minor injuries, a police spokesperson said.
In a statement, the state's peak football body condemned the crowd behaviour.
"We treat misconduct matters seriously and ensure these incidents are dealt with decisively."
The matter was being investigated by Football Victoria's Legal, Regulatory and Compliance Department.
"I'm unable to give you a specific timeframe on the investigation because, as you could appreciate, it will be very thorough," a Football Victoria spokesperson said.
"It's not appropriate for us to comment on the nature of the incident, except to say that we treat misconduct matters seriously and will ensure it is dealt with decisively."