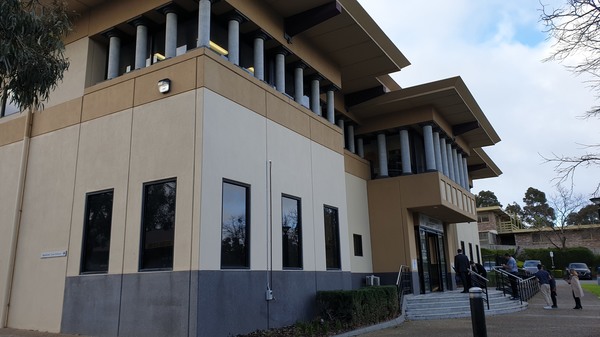 By Cam Lucadou-Wells
An ice-high disqualified driver has led police on a wild high-speed pursuit on EastLink before crashing into a car and hiding out at a junior football club match, a court heard.
Michael Lan Youn Foong, 34, of Endeavour Hills, also pleaded guilty to dropping a burnout and fishtailing within two metres of police officers as he fled from Frog Hollow Reserve car park on a separate occasion.
On a Sunday afternoon on 14 April, an unmarked police car observed Lan's silver Mazda overtaking at a fast speed without indicating until he slowed behind "medium"-dense traffic on EastLink in Dandenong South.
When police turned on lights and sirens, Lan accelerated down the left emergency lane and "dangerously swerved in and out of traffic" at more than 150 km/h.
He caused several near-misses with other vehicles before police abandoned the pursuit due to safety concerns, Dandenong Magistrates' Court heard.
Minutes later, a member of the public reported Lan dangerously tailgating and overtaking in Carrum Downs. He rear-ended another car at the corner of Wedge and Dandenong-Frankston roads.
Lan and a female passenger fled on foot from the crash, trying to blend in with the crowd at a junior football match at Carrum Downs oval.
The pair was arrested in the clubrooms, as Lan was texting someone to pick him up from the oval.
According to police, Lan admitted to having two 'hits' of ice that morning, and tested positive for drug-driving.
Knuckledusters and four clip-seal bags of ice residue were found in the Mazda.
Nearly 3am on 2 February, Lan was discovered by police standing in darkness by a white Toyota coupe in Frog Hollow Reserve.
As two police officers walked over to Lan, he got in the driver's seat, saying: "Hey guys".
His coupe, with a female passenger on board, lost traction as he accelerated and fishtailed away within two metres of a police car and the officers.
Courts had given Lan chances to address his drug-fuelled offending over the past decade, his lawyer conceded. His "substantial" list of priors ran for 35 pages.
At the time, Lan's 13-year relationship ended, the lawyer said. He'd lost work and a stable address, and was using ice and heroin nearly every day.
On 13 August, magistrate Tara Hartnett said her sentencing priority was to protect the community.
"He's had at least one community correction order, he's on a drug treatment order and he's in a situation that he's just gone beyond it.
"His rehabilitation is well down the list of sentencing principles.
"He's run out of options."
After the EastLink incident, Lan's drug treatment order was cancelled by Dandenong Drug Court and he was jailed for 168 days.
Ms Hartnett jailed Lan for a further six months on top. He was disqualified from driving for two years.