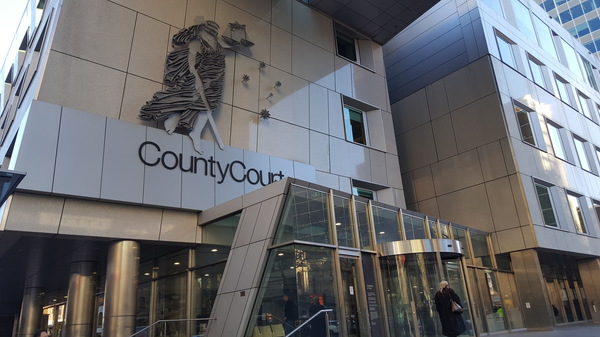 By Cam Lucadou-Wells
A pair of drug-addicted, homeless brothers went on an "out of control" two-month spree of servo armed robberies, petrol drive-offs and thefts in a stolen station-wagon, the County Court of Victoria has heard.
Andrew and Billy Dunlop, aged 23 and 27 respectively, were each jailed on 15 November for up to four years for their criminal rampage in late 2018.
The spree was said to be sparked by Billy finding his then-girl friend in bed with his best friend.
He used drugs to "numb" his emotions and joined up with Andrew, who was just released from jail.
While "basically homeless", they stole cash for drugs, food and accommodation, Judge Liz Gaynor noted.
"Your offending, your drug use, your lifestyle was spiralling out of control."
Along the way, they disguised the stolen silver Holden Commodore with stolen number plates and black spray-paint.
Within eight days in early October 2018, the pair were involved with holding up a Hallam service station with a knife, a Hallam 7-11 with a firearm and a Noble Park servo with a metal rod.
On each occasion, they cleaned out the tills, taking more than $2000 in total.
On 7 October, the pair were involved in a drive-by robbery of a dog walker in Noble Park.
Andrew later used the victim's stolen debit card to buy cigarettes and fast food.
On 12 October, Billy opportunistically stolen the station wagon at an Oakleigh servo. The owner had left his keys in the ignition and his wallet in the car as he stopped to buy cigarettes.
Also inside were the owner's sports Certificate III study materials for the past seven years, work power-tools, Workcover report, work skateboards, and camping gear.
The thefts cost the owner an "enormous amount of inconvenience, time and money", Judge Gaynor said.
It was dumped four days later at the back of a bowls club in Blackburn North after Billy crashed in the Melba Tunnel, Eastlink. A supply of amphetamine pills was seized from the vehicle.
He was arrested and remanded in custody in mid-October.
Meanwhile Andrew stole items including a debit card from a couple's two cars parked at their Bayswater home.
He used the debit card to buy three cab fares, supermarket items and fast food. As he sought to fraudulently buy a $10 set of headphones from a 7-11, police arrested him.
The court heard of the brothers' extensive criminal histories and despairing childhoods. Rejected by their prostitute mother, they grew up separately with different fathers and in teenage homelessness.
As a teenager, Billy was abandoned by his mother alone in a Housing Commission building in Yarrawonga. In between stints on the streets, he discovered his father hanged at home.
He wasted the payout received for his father's death on his "massive" drug addiction.
Billy abused a variety of substances, injecting about 3.5 grams of ice every two days. Heroin became a major addiction three years ago.
He'd breached several community corrections orders and served a three-month jail term in the past.
"You've been living in a cycle of despair and drugs and hopelessness for many, many years," Judge Gaynor said.
"Your drug addiction has become so severe that you've caused yourself permanent brain damage."
"Unfortunately" the Dunlops had responded well to structure and abstinence while in custody, Judge Gaynor said.
Long term drug rehab was "absolutely essential" for the pair on their release – "both for your sake and the community's sake as well".
"Simply, this ruinous cycle has to end."
The Dunlops were eligible for parole after serving two-and-a-half years in jail.