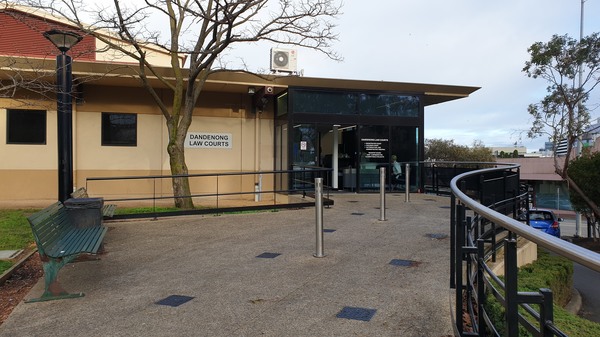 By Cam Lucadou-Wells
A man who pleaded guilty to punching his partner in the face at a protest rally has proposed to the same victim from the dock of Dandenong Magistrates' Court.
"You're my heart and soul," the 39-year-old Dandenong man told the woman as he was led back to the police cells on 28 January.
"Will you marry me?"
Sobbing in the courtroom gallery, his partner for the past 12 years replied resoundingly.
"Yes!" she shot back.
Two days earlier, the couple had been drinking together at an Invasion Day protest in Melbourne, police prosecutor Senior Constable Tess Holmes told the court.
An argument flared when the man accused his partner of looking at other men, the court heard.
CCTV footage showed them yelling at each other, and then him punching her to the side of her face, Sen Const Holmes said.
She suffered a laceration to her ear, and bruising to her head, police told the court.
In the gallery, the woman denied police claims that her ear was surgically repaired at St Vincent's hospital. She told the court she was taken to The Alfred for three hours.
Sen Const Holmes said police found the man hiding under a bed in a neighbouring caravan.
He told police that he was positive that he hadn't hit his partner.
A defence lawyer said the man's "recollection of events is quite vague".
Magistrate Tony Burns said he noted that the man's partner wanted him released from custody.
"It's because of the attitude of your partner, the victim in the matter, that I'm prepared to not sentence you to jail," Mr Burns said.
"Anyone who strikes a woman in such a way deserves to rot in a cell."
He indicated that he'd sentence the accused to a community corrections order.
However Corrections Victoria told the court that the man was unsuitable for a CCO due to being possibly extradited to face charges in Queensland.
The man was remanded in custody until "more details" on his extradition were known. If extradited, the man would be fined instead, Mr Burns said.
The accused will appear for sentencing at Dandenong Magistrates' Court on 7 February.
In the meantime, Mr Burns issued a personal safety intervention order. If alcohol affected, the man is barred from within five metres of his partner and 200 metres from their home.