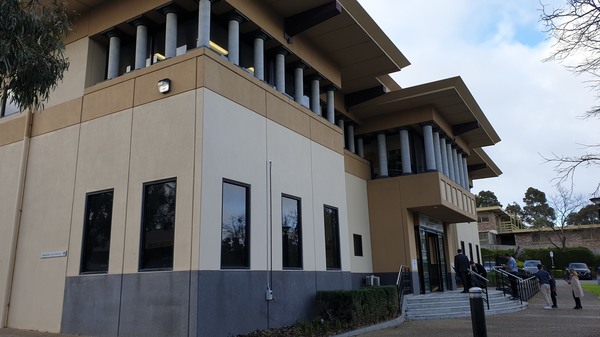 By Cam Lucadou-Wells
An 18-year-old's bail application spectacularly collapsed in Dandenong Magistrates' Court after his mother refused to take him back home.
Maxwell Gany, of Dandenong North, covered his head with his hands and T-shirt in the dock, as his defence lawyer announced the "late development" at the 28 January hearing.
Gany had been accused of intentionally putting police at risk and endangering life while he drove a stolen Ford Falcon with two passengers in Springvale South the day before.
He pulled a U-turn while followed by a police car into a no-through street near Coomoora Road about 3.40pm, police told the court.
Police activated their vehicle's lights and sirens. An officer stepped out onto the street and ordered the Falcon driver to stop.
Gany allegedly drove towards the police car, causing the officer to take evasive action, the court was told.
The Falcon veered out of control into two parked cars. Gany fled on foot and was captured by police on Northgate Drive.
Two unopened liquor bottles, believed to be stolen, were seized from the Falcon.
During a police interview, Gany denied he was driving. He claimed he swapped seats with the driver after the Falcon crashed.
In opposing bail, police told the court that Gany was on youth probation for alleged robbery and attempted robbery.
He was also awaiting trial for earlier offences such as driving unlicensed and negligently handling proceeds of crime.
Gany's lawyer argued there were 'exceptional circumstances' for the accused's release.
A custodial sentence "wasn't necessarily in play", given Gany's age and the nature of the charges, the lawyer said.
It was uncertain whether Gany faced charges of intentionally or recklessly putting police at risk. He faced more time in remand than his likely sentence, the lawyer told the court.
With "strong" rehabilitation prospects, Gany was keen to continue his studies and a possible career in boxing or basketball, the lawyer said.
In custody, he was more likely to encounter "bad influences".
Magistrate Tony Burns said some of the defence arguments were persuasive.
On the other hand, Youth Justice had not yet assessed Gany's suitability for supervised bail, and that a suggested bail address in Lynbrook had not been verified, he noted.
Mr Burns refused bail, declaring Gany an unacceptable risk of continuing to offend.
Gany was remanded to face a filing hearing at Melbourne Magistrates' Court on 20 April.