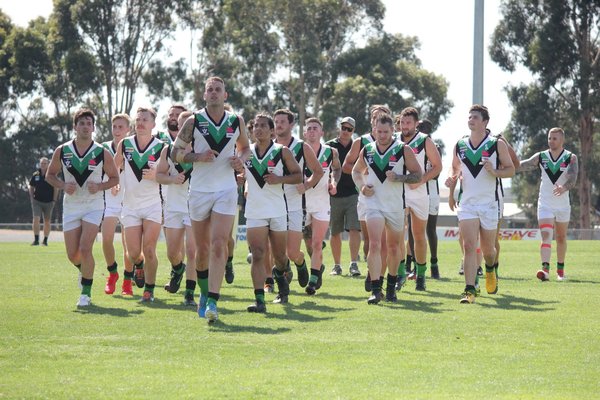 By Nick Creely
They almost tore the paint off the walls.
In the aftermath of Doveton's stirring Good Friday win against Officer, the pure joy – and almost relief – was plain to see on all of the faces that entered the AJ Robinson rooms to sing a rousing rendition of their famous song.
This was no ordinary win; it was a culmination of the togetherness of the club, a resurrection from a 2018 full of anguish, and the beginning of a new era in AFL Outer East.
It may go down on the ladder as just four points in the scheme of things, but it's so much more than what meets the eye.
It was their first senior win since defeating Beaconsfield in the now-defunct SEFNL on 5 August 2017 by 48-points, after going through the final season of the competition winless.
That's a run of 19-straight losses.
Club president and current player Aaron Henwood bleeds for the club, and can't recall a win that held such significance. He said the scenes in the rooms after the win were of pure "emotion".
"From my perspective, I'm seeing it from both sides (as president and player) – so the emotions were probably running a bit higher than most of the guys," he said.
"When you're president, you know the nitty gritty behind the scenes, and you know how hard it is to run a club and being successful is even harder.
"For me, it was a big emotional dump to get to that point and see the relief, and all the hard work paying off, and seeing the tide turn so to speak, which it has."
While 2018 was a horror year for the Doves – who are a proud, revered club in the south-east – Henwood said the club never lost faith, and were galvanised by a season which tested the fabric of the place.
"We had that year where we needed to knock the house down and rebuild it again, it definitely took its toll on me, it wasn't easy for me," he said.
"Generally, a year like that at most clubs, you would think half of your players would go, but we only had maybe two senior players go.
"That speaks volumes of our club – it did galvanise us, and has held us in good stead for this year."
Pure relief, that one overriding emotion from the Doves' breakthrough win, was also written all over the face of club icon and current senior coach Daniel Charles, who said it was a win to savour for everyone who stuck through the club in their darkest times.
"It was big for the players that did play last year, and it was probably more importantly big for the supporters that stuck around last year," he said.
"They did it tough – although it hurts to lose, at least you're out there trying to do something about it.
"When you're following a team that isn't winning, and all you can do is sit there and watch in hope, it's a lot harder – we had 11 players that played last year in our team, so for those guys too it was a fairly big occasion."
On-field, the Doves are reborn, playing an electrifying brand of football with a host of new names and gun youngsters, and Charles said that the agony of weekly tough losses in 2018 in a way made them figure out exactly who is willing to forge the club forward.
"We just went into the game trying to put into practice what we learned the year before, and for the new blokes, trying to play a role and implement what we learned over the summer," he said
"I think we'll benefit from it (2018) – what it did, a lot of players left the club, and it gave the club a chance to go out and get a new coach, which is myself, and I look down the path of playing kids and giving them the opportunity.
"To be totally honest, I thought I was going to be there long enough to help rebuild the club, and not see a great deal of success, so it's pleasing to win a few games early this season, that's for sure."
They have entered the season in unfamiliar territory in Division 1 of AFL Outer East – as one of the premiership favourites – and the injection of the likes of Lachie Batten, Mitch Viney, Michael Sikora, Daniel Zajac, Luke Daidone, James Gascard to compliment Henwood and some of their seasoned warriors have made them an ominous task for opposition clubs.
But the Doves had one mantra when looking at who to bring in this off-season – character, plain and simple.
To them, it was the ingredient of a successful sporting club.
"When we sought new recruits, our main criteria was simple, 'good blokes'," he said.
"We were more interested in bringing in good people with a good work ethic to the club, rather than gun footballers.
"We're lucky to have picked up a number of players that are not only good blokes, but can play a bit as well."
Charles praised the AFL Outer East divisional model, saying it was crucial for a club like the Doves to rebuild and finally get their juniors back, with the Under 18 group plenty of reason for excitement.
"The vibe around the club is just fantastic – it all stems from getting Under 18s back to the club," he said.
"All the kids generate most of the enthusiasm, so having them to support the senior group is fantastic.
"I think every league should be divisional football, I think it gives everyone a chance to rebuild, and get back into the top division, and it gives all teams a chance to be successful over time."
The Doves celebrated their 50-year premiership reunion on Saturday when they hosted Pakenham, with the club honouring the 1969 side – which includes Charles' dad Steve – which happens to be the club's first ever senior premiership.