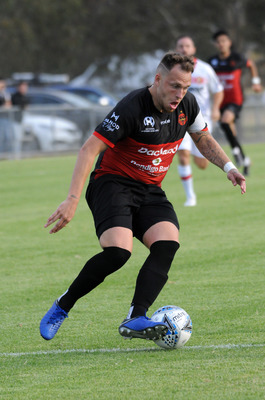 By Hayley Wildes
It's been a tough 2019 campaign thus far for the Dandenong Thunder in NPL Vic soccer. In the top-flight competition in the state, the Thunder entered round 11 with three wins, two draws and five losses to their name.
After an initial encouraging start to the season with two wins – a 3-1 win over Kingston City and a 3-1 win over the Oakleigh Cannons – in the opening three rounds, Dandenong has since struggled to find the required defensive tenacity.
Since Round 3, the Thunder have been out-scored 22-11, with goals hard to come by and protecting their own net even harder.
Thunder superstar and reigning NPL Vic Golden Boot winner, Brandon Barnes – who torched opposition defences last season with 22 goals – hasn't had the supply in attack that he's enjoyed in previous seasons, but after two goals in Round 9 against South Melbourne, still leads the Thunder in goals scored.
With five strikes finding the back of the net, Barnes leads Dandenong, with Kieran Dover (four goals) the only other Thunder player to have scored over two goals this season.
Whilst the first 10 rounds of the season haven't gone to plan, the good news for Thunder fans is that the season isn't lost just yet.
Yes, there's plenty of work to be done, but the top six isn't out of reach. Hume City, who entered Round 11 with five wins to sit sixth on the ladder, is just two wins (six points) ahead of the Thunder. Furthermore, Altona Magic and Bentleigh Greens, who sit fourth and fifth respectively, are eight points ahead of Dandenong.
From Round 11 to Round 16, the Thunder have games against three teams below them on the ladder. This offers a chance for Dandenong to revive its season and possibly make some inroads up the ladder.
With 26 rounds in the season, time is on Dandenong's side.