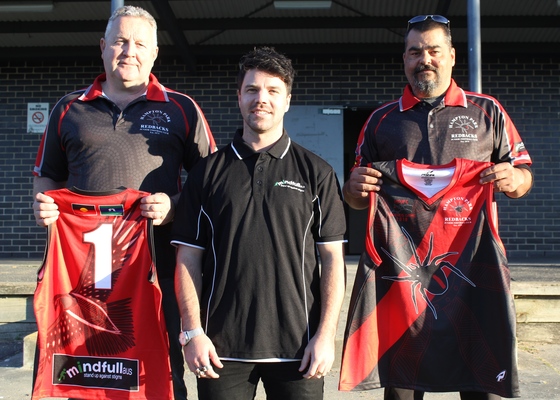 By Russell Bennett
"When all seems lost, it's about understanding that there is light at the end of the tunnel – even if you can't necessarily see it right now."
That is one of the clear messages to take on-board from Hampton Park Junior Football Club's third ever running of its 'Legends Game', which welcomes a host of the club's favourite sons back to the fold.
This year, on 4 August, the beloved community event – run in conjunction with Matt Runnalls' Mindfull Aus – has a real emphasis on cultural diversity, in addition to its usual mental health focus.
The last 'Legends Game', in 2017, came almost exactly six months after the sudden passing of former Hampton Park junior Shaun Ross – who had ongoing mental health struggles.
He had a heart of gold, but lived a troubled life from a young age. Yet through the darkness of his passing, there is a light that constantly shines in his honour – to help, along with the likes of Mindfull and the Hampton Park JFC, people in their own mental health struggles.
Mindfull Australia is a suicide prevention charity founded by Runnalls – Shaun's great friend, and former club-mate at the Cora Lynn Football Netball Club.
Mindfull's purpose is to encourage those affected by mental health battles to come out of the shadows of stigma through self-acceptance, and education of the wider community.
At the time he founded Mindfull, Runnalls was a 24-year-old tradie who played country footy. He had no real financial worries, his professional life was in order, and he had a strong network of family and friends. But since the age of 17 he's battled severe anxiety and depression, which led to several suicide attempts.
This year, Hampton Park's 'Legends Game' will expand its focus to those in the local Indigenous community facing their own mental health battles.
The Hampton Park Junior Football Club is home to a large number of members from the Indigenous community, and the jumpers to be worn in the upcoming clash in August have been specially-designed by one such member – Leigh Gittens.
"I've been involved with the club for the past nine years and Chris (club president Chris Adair) has asked me for the past couple of years to design a guernsey, and we've finally got one," Gittens said.
"We've got a very multicultural club here – one that's very friendly and family-oriented. No one is left out."
Runnalls expanded even further.
"I've only been involved with the club for three or so years through Chris, but just the way the whole club, not only Chris, has opened its doors to me and the concept of these conversations with the community is really comforting to see," he said.
"To change the concept of the 'Legends Game' this year just slightly to involve a different demographic and background is a really beautiful thing.
"It's something that I want to get behind, and it's something we'd like to do more work with at Mindfull – involving a diverse range of communities – and Hampton Park is a fantastic representation of that.
"We have more of a youth focus on this event this year in the rooms afterwards and we want to really get a lot of the juniors to come in and hear these messages.
"To be able to represent a different culture, but one that's paramount here in the area, is something that'll open up the doors for a lot of people to seek comfort and I think it's a beautiful thing that this club is doing.
"It's an awesome initiative, and I can't wait to see everyone in these jumpers.
"We've seen the rates of indigenous youth suicide, and it's about getting the kids back to culture, remembering their heritage, and connecting back to their roots.
"That's why this club does such a fantastic job. This is a fantastic initiative and one that Mindfull Aus is rapt to be supportive of, and be a part of."
Adair spoke about the Redbacks providing a constant source of support to all their members – regardless of background or culture.
"We've always been big on looking after our indigenous families, and we're really proud of their contribution to our club," he said.
"Mindfull has also been a big part of our club for the past three years so, between that and our past players, it should be a cracking day. They're three things that are really important to our club."
Adair also spoke about the significance of the jumper designs for the upcoming clash.
"The small circles represent the players, and the largest circle and the second largest circle are the captain and the vice-captain, so that's the leadership and these are all the directions people have come from to be here," he said, pointing to the front of the jumper.
"On the back is Bunjil, the creator."
The Hampton Park Junior Football Club 'Legends Game' will be held on 4 August at the Cairns Road Recreation Reserve from 2.30pm, with a dinner and presentation from Mindfull to follow.
Tickets for the dinner and presentation are $40 for adults, and $10 for kids. For more information, contact Mel Adair on 0412 564 547, or email admin@mindfullaus.org.
Anyone needing help can contact Lifeline on 13 11 14, beyondblue on 1300 22 4636, Kids Helpline on 1800 55 1800, or Mindfull at www.facebook.com/mindfullaus.