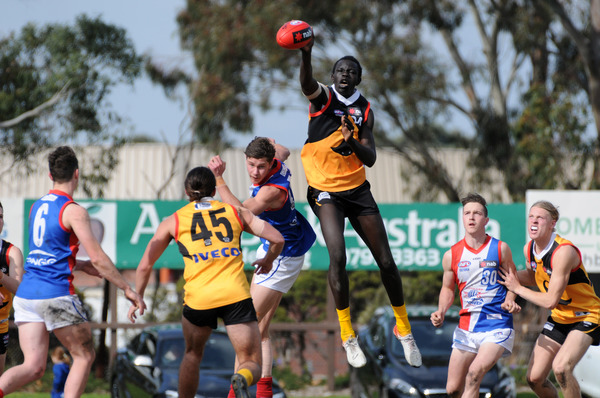 By Nick Creely
St Kilda Next Generation Academy prospect Bigoa 'Biggy' Nyuon is one of three Dandenong Stingray draft prospects selected in the 2019 State and Rookie Me Combine.
More than 100 players from across the nation will look to impress AFL recruiters at the second of the combines (separate to the National Combine) in October after receiving nominations last Wednesday. From the State combine last year, 22 players were selected in either the AFL or rookie drafts.
The athletic utility from Rowville is a product of the Saints' Next Generation Academy, which is a joint initiative between the AFL and AFL clubs aimed at attracting and developing players while growing participation in the under-represented segments of the community. The Saints' allocated zone is the bayside region of Melbourne, which incorporates the Stingrays.
Stingrays coach Nick Cox was full of praise for his star youngster after a recent match against Gippsland Power, where after an injury to ruckman Bailey Schmidt, Nyuon shone in the ruck after being thrusted into the role early in the match.
"Biggie probably played one of the best games for the Stingrays thus far," Cox said.
"The worrying part about it is that he now needs to do that more consistently, week in week out and that is something he is working on quite hard.
"Biggie had great energy, he stayed in the contest longer and it was pleasing at the end of the day that he stood up when he had to.
"He was really good for us."
The other Stingrays set to test themselves at the Combine is Blake Kuipers, a former volleyballer standing at 198cm and possessing great athletic ability, while Haileybury College/Noble Park prospect Liam Scott – who is expected to feature for the Stingrays late in the season – is another bolter who has plenty of eyes on him after some brilliant form.
Scott took out the best on ground medal in the Eastern Football League under 18 grand final in 2018 and has played five senior games for the Bulls this season.