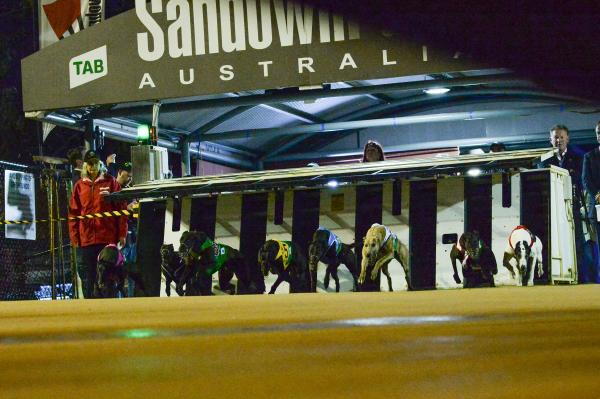 By Lance Jenkinson
It will be "full steam ahead" for Sandown Greyhound Racing Club next month as it ushers in its biggest racing period of the season.
The only sounds around Sandown Park in recent weeks have been trucks and machines replacing the ageing track, but the club is expecting works to be completed in time for an uninterrupted prelude series in the lead up to November's Melbourne Cup carnival.
"We're on track," Sandown racing manager Mick Floyd said.
"We'll see how the works go, but hopefully early October we're back up and running again."
A slick new surface will be presented at Sandown when the dogs return to the boxes.
Aesthetically it might not seem much different, but there is more to the upgrades than meet the eye.
Over time, the clay subsurface of the track has shifted, prompting Sandown to take proactive action before it became a serious problem.
"The current circuit was built in, I think, 1996," Floyd said.
"It's a clay base, so over time the clay shifts around a little bit, so there's a bit of an issue beneath the track.
"If it had been left, it would've presented an issue down the line, so it was important that we addressed it.
"We also put some new drainage in and put a couple of other little things in that will help us going forward.
"By the time we get back racing, we'll essentially have a brand new track."
It has been a strange period in Sandown's history.
Due to Covid-19 restrictions, crowds have not been allowed at the track and there are strict rules in place to ensure the health and safety of trainers and officials.
Floyd is proud to report that all rules have been adhered to so far in order to keep greyhound racing going during the pandemic.
"Greyhound Racing Victoria set out some pretty strict protocols and they're being enforced to the nth degree on trainers, staff and officials," he said.
"That's the world that we're in at the moment.
"Safety and wellbeing is paramount.
"All the trainers understand the situation and they know what's at stake if we don't follow these rules.
"We're in a fortunate position, given there's so many people with their livelihoods on hold at the moment.
"It's been really good so far."
The lockdowns have exposed new people to the sport of greyhound racing.
Floyd believes a craving for live sport might have unearthed some new followers, who he hopes will stick around to take in the Melbourne Cup carnival.
"When a lot of other sports were off for a while, racing was able to keep going," he said.
"That exposed all racing codes to customers who were looking for something light.
"You can only watch replays of footy from 1984 so many times before you want to watch something you don't know the result of.
"The turnover has been quite strong throughout and the sport had been going well before all of this as well, so it's a continuation."
The Melbourne Cup is locked in for November 27 at Sandown.
The "journey" to the Cup for greyhounds and trainers is tipped to be exciting to watch.
"We're lucky at the moment that we have a number of high profile and very good greyhounds," Floyd said.
"With the feature calendar set up the way it is, there's always a race for those dogs to be competing in and it will be great to watch."