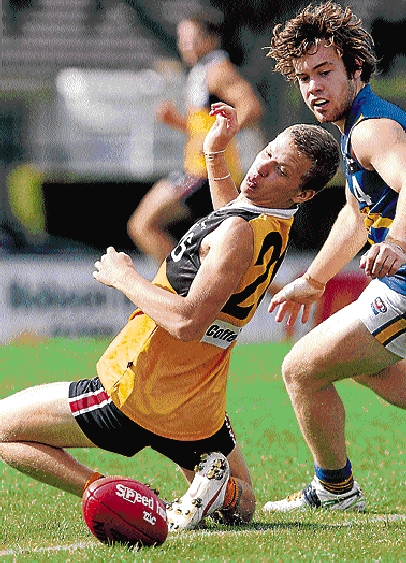 By Roy Ward
DANDENONG Stingrays turned a good start into a solid victory over Western Jets at Shepley Oval on Saturday.
The Stingrays burst out of the blocks, winning the ball repeatedly in the opening minutes and setting up a lead that they would turn into a 54-point win.
Despite the impressive rebounding from athletic talls Jake Calvert and Ryan Morrison along with a bevy of running midfielders, Stingrays assistant coach Craig Black said his side dropped its intensity in the second half.
The Stingrays took a four-goal lead in that opening term and made the most of errors or turnovers from the inexperienced Jets side, extending their lead to six goals at the main break.
Despite the drop in intensity, the Stingrays continued to stop the Jets' attacks inside their forward 50-metre line.
Morrison, Calvert and Matt Rennie all took marks and forced the ball back away from goal, eventually leading to several Stingrays goals as the lead extended in the third term.
The Jets were able to find a few goals in the final term but were still no match for the home side, which had contributors over the ground.
Taylor Garner and Billy Rolfe (three goals each) proved difficult to handle in the air and others such as Jordan Bastinac, Josh Newman, Tim McGenniss and Ryan Marks-Logan (two goals each) all found ways to score.
The Stingrays also got a workmanlike debut from ruckman Agape Patolo, who made an impression both in the air and on the ground.
"It was pleasing for us to see Agape make an impact in his first game," Black said. "Ideally he is a guy we would like to develop into a tall forward who can ruck, but he has a long way to go and a lot of learning and development to go through."
Patolo was joined in the best players by Tyler Williams, Nathan Foote, Bastinac and Rennie.
Highly rated Stingrays midfielder Lachie Whitfield was playing school football and co-captain Jason Pongracic returned to the side after injury.
The Stingrays face Oakleigh Chargers at Warrawee Park, Oakleigh, at 11am this Saturday.