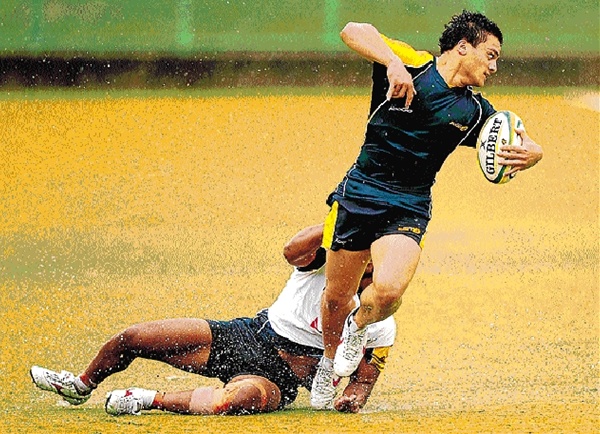 By ROY WARD
NOTHING can prepare a player for the speed and ferocity of international sevens rugby but as for the cutthroat nature of elite sport, Dandenong's Allan Faalavaau has a little experience with that.
The 18-year-old Endeavour Hills Rugby Club star was working in a Halal butchers in Dandenong last month when he got a call from rugby officials telling him he had been selected as an injury replacement for the Australia Sevens squad to play in the Las Vegas round of the Sevens World Series competition.
After a quick call to his mother to get a lift home, Faalavaau was packing his bags. Next day he was on the plane to the United States. "I was just working at the butchers, I didn't really know I was even a chance," Faalavaau said.
Next thing he knew, the quietly spoken centre and half was checking into his lavish Las Vegas hotel and adjusting to the desert air. "Our hotel was built on top of a casino and mall," he said. "Although I didn't have time for any gambling."
Faalavaau was too busy adjusting to his new teammates before running out against the best sevens players in the world.
While full 15-player rugby is still the pinnacle of the sport, the sevens game gives athletes a rigorous test as just seven players have to defend an entire pitch.
Faalavaau was a little overawed as he ran out with the Australian side, but once the ball was in play, he snapped into action.
"It hits you [that you are playing for Australia] when you run out and people are yelling and cheering," he said. "I never pictured my Australian debut would be in Las Vegas – the air was so sharp, it hits you as soon as you start running."
After starting as a bench player, Faalavaau was elevated to the starting side after a teammate was injured. "At first, playing at that level was a shock but after a while it was all right," he said.
Faalavaau has come from the very fringes of the rugby world growing up in Dandenong, and playing with nearby Endeavour Hills which is a proud but small club with a growing rugby legacy headlined by Wallabies winger Digby Ioane.
While Faalavaau was playing in Vegas, his two older brothers, three sisters and parents were home in Dandenong watching, with some surprise, on television. "Mum was screaming at the television," Faalavaau said. "Everyone was very happy for me."
Faalavaau said he hadn't been back to work at the butchers since earning his Australian debut as his training had increased.
He is at a training camp in Canberra this week leading into selections for the famed Hong Kong Sevens on March 23-25.
Playing in front of 40,000 fans would be another new experience for the teenage Victorian, although he only wants to impress a very small group at present – the Australian selectors.
He is also a squad member for the Australian under-20s which will go into camp in the coming months.
Faalavaau's rugby dreams will hopefully take him far away from any further work at the butchers, although he is keeping that option open.
"I'm sort of on my way to becoming professional," he said. "I would love to play super rugby and play professionally."
Hopefully, the Melbourne Rebels could use a butcher.