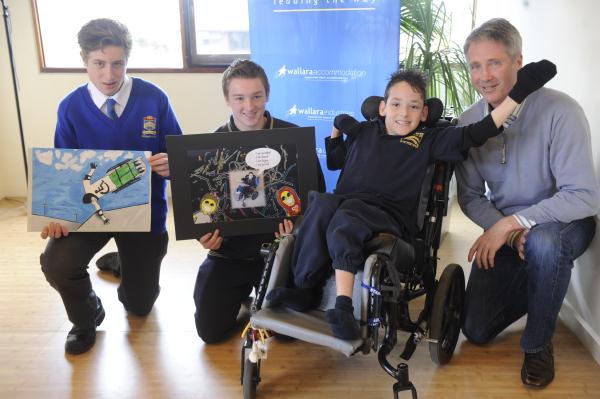 By CASEY NEILL
NARRE Warren South student Ace Bryans has cerebral palsy.
He can't speak, is confined to a wheelchair, and communicates non-verbally via a computer keyboard.
But with help from Year 7 classmate William Millett he's taken home an art award.
"I felt bloody proud for all of us," Ace wrote.
The pair and Matthew Milicia from Cheltenham Secondary College won this year's Wallara Picture This competition.
The Dandenong support service for adults with a disability runs the contest to get students thinking about what social inclusion for people with disabilities really means.
Judges selected the winners from more than 60 entries from five schools, and they were to receive their awards at Wallara's annual concert at Robert Blackwood Hall last Saturday.
The images will be used to transform Wallara buses into eye-catching mobile billboards.
"My heart stopped when I was told by (visual arts teacher Phil) Perryman that we had won," Ace wrote.
"I can't wait to see our design on the road."
Mr Perryman said Ace enjoyed art greatly.
"He produces most works with large textas or paintbrushes in his mouth," he said.
"He has done some works with his hands, but finds this more difficult as he has less mobility and control in this area."
Mr Perryman said the design submitted was derived from ideas from both students.
"The artwork in the background was produced by Ace, using a marker on paper in his mouth," he said.
"This image was enhanced using Photoshop, with a filter applied which Ace chose.
"The photo was also of Ace at school, and the message was written by him.
"The images in the foreground of the people were created by William, and William also operated the computer with Ace observing."
William said Ace and Mr Perryman told him about the win during a maths class.
"I was pretty excited and after the bell I ran home and told my mum and she was very proud," he wrote.