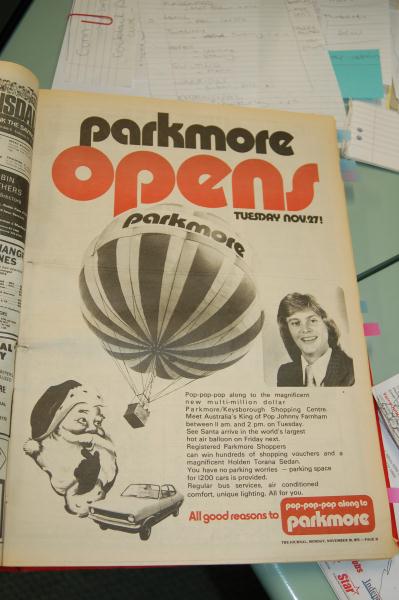 By CASEY NEILL
THOUSANDS of people packed the $4.5 million Parkmore Shopping Centre – looking "a lot like a science-fiction spaceship headquarters" from the air – for its gala opening on 27 November 1973.
The crowd was so dense by 9am that the 1200-space car park was filled to capacity, the Journal reported at the time in pages of coverage.
Many shoppers were from distant suburbs and country areas, but most were locals with an eye to bargains and their hearts set on Christmas purchasing.
They also came to see "Australia's top showbiz personality" Johnny Farnham.
The Journal brought him exclusively to the opening and he reportedly "made friends with everybody from matrons to youngsters", had the littlies singing nursery rhymes and handed out gifts.
The Journal also brought Santa to the centre in the world's largest hot-air balloon on 30 November.
Centre manager John Mickles said the opening was "just tremendous".
"We have 59 shops and to show the faith of the traders in this newly-expanding area, there is only six not yet let," he said.
"I'm confident Parkmore will fill a much-needed want for the public and will go a long way."
Mr Mickles had been associated with building development in the area for 15 years and had been the youngest mayor of any city in Melbourne after holding the role at St Kilda at age 31.
He managed "the fourth largest freestanding shopping centre in the state" as well as chairing its merchants' association.
At the opening, Coles New World Supermarkets Victorian general manager Robert Plunkett told the Journal that Coles was "delighted to be associated with such a modern and progressive shopping centre".
"We think it has enormous potential and will grow and grow over the years," he said.
Mr and Mrs Foxman came to the opening from Clayton because it was Mr Foxman's day off.
"The centre is beautiful and right on our own doorstep, too," Mrs Foxman said.
"I feel it will serve a much-needed want with the new houses and development in the area."
Thyra Hussey from Hampton Park was interested in "food bargains", especially biscuits and tinned goods.
"Groceries we buy today can spread over the Christmas period," she said.
"You can do your shopping all in the one spot – that's a main advantage."
Barbara Ritter, from Noble Park, was laden with a portable typewriter, coffee and biscuits as she left the opening.
"I think I'll shop here all the time. If I had a car I'd get food, too," she said.