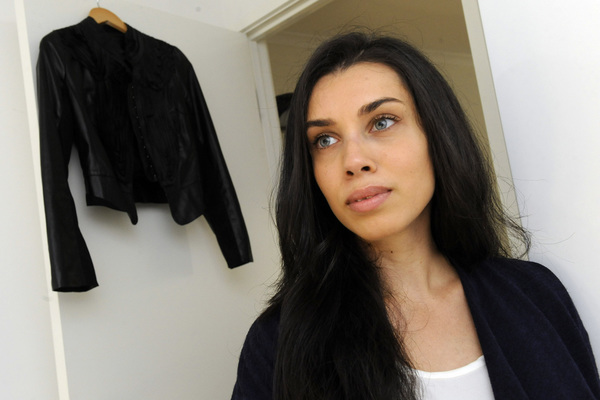 By Brendan Rees
Heidi thought she was doing a good deed by getting rid of a few clothes to charity.
But little did she realise that she had given away two of her most sentimental rings – an engagement ring and a wedding ring in the pile.
Now she and her husband, Adam, of Dandenong North is desperate to track them down.
Adam, who asked not to reveal his surname, took some his wife's clothing to a Vinnies store in Oakleigh about two weeks ago after she cleaned out her closet.
But Heidi had completely forgotten that a black leather jacket she donated had the two rings in a pocket.
She had put them there as a safe place so her 19-month old son, Tommy could not get to her jewellery drawer.
"I'm putting it down to baby brain," said Heidi. "I totally forgot about it for nearly a whole week and then suddenly just woke up in panic and realised that I had donated the jacket.
"He (Tommy) kept getting into my jewellery drawer, so I thought I'd put it in a pocket that he'll never look in."
"I was really upset, obviously the sentimental value more than anything else."
Heidi recalled waking up hysterical when she realised her mistake. "I was like; I've just given away my rings."
Now the couple are asking members of the public to keep an eye out for the lost items. "It was a mistake. I would obviously love to get the rings back," she said.
She described her engagement ring with a blue sapphire in the centre and "surrounded by diamonds in an oval shape and then it had half diamonds on the band."
The wedding ring, worth about $2000, was made of half diamonds to match the engagement ring, she said.
Heidi said her husband spent a month designing her $6000 engagement ring: "It was beautiful. He put a lot of effort into making that ring," she added.
She made Vinnies aware; who she says has done as much as possible to help. "They looked for the jacket but they couldn't find it."
"It was in really good condition and probably already been sold. Jackets are really popular there," she said.
"I've called Vinnies and they say 'It could be anywhere because we've got 124 stores and it might've already been sold.' "
Anyone with information can call Adam on 0407 220 070.