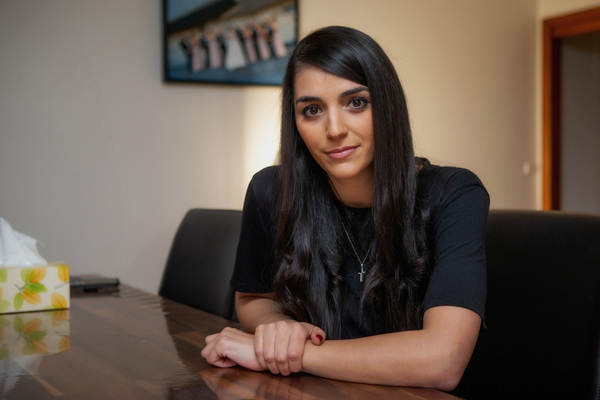 By Cam Lucadou-Wells
Diagnosed at 19, Rania Melhem struggled to open up about her "invisible illness".
But a decade later, the MS Ambassador has come to realise that writing and speaking out about the disease Multiple Sclerosis does a power of good – for herself and others.
"Since becoming an ambassador, I haven't been able to stop talking about having MS," Ms Melhem said.
"It's a great way of dealing and coping with everything MS does to you because it's so unpredictable."
At first the diagnosis was devastating, especially since her sister had been diagnosed with MS six years earlier.
The Dandenong North resident tried to hide her energy-sapping illness. She finished a university degree, worked full-time for a major bank and married.
But as the responsibilities mounted, she suffered a terrifying relapse in which she temporarily lost feeling in her legs and down her left side.
Support organisation Multiple Sclerosis Limited was there to help. It organised an occupational therapist, set up a home office as well as physiotherapy and myotherapy sessions.
It suggested Ms Melhem to start writing a blog.
She says this proved cathartic. It was great to help others with MS – many who didn't know about the support services offered by MS Limited.
It's apt that MS – caused by multiple legions on the brain and spine – is dubbed an "invisible illness".
Not just because its multitude of symptoms are often not obvious from the outside, but also because few know much about it.
It can be hard to explain when you feel fatigued, feel stabbing nerve pain, have involuntary muscle spasms and need time off from work.
"You might look fine on the outside but feel horrific," Ms Melhem says.
"One day you can be feeling OK.
"The next day you can't feel one of your limbs, or have blurred vision, or not being able to string words and sentences together.
"You come home tired from work and sometimes even turning a light on is difficult.
"You can feel on a different planet or universe because your mind is just so fatigued."
Throughout, she's tried to remain positive, and not to get "bogged down" in her unknown prognosis.
In the past decade, Ms Melhem's treatment has evolved as medical breakthroughs are made.
Yoga helps to centre herself and keep the negative thoughts at bay. She "fights" on for her supportive husband and family.
"I'm in pain the majority of the time but I put everything into perspective.
"I'm always grateful for the fact that I've got feeling in my legs.
"I'm lucky I can still walk.
"While you are not feeling so great, you know that things will be better again."
To follow Ms Melhem's journey, go to @missanonyms on Instagram.