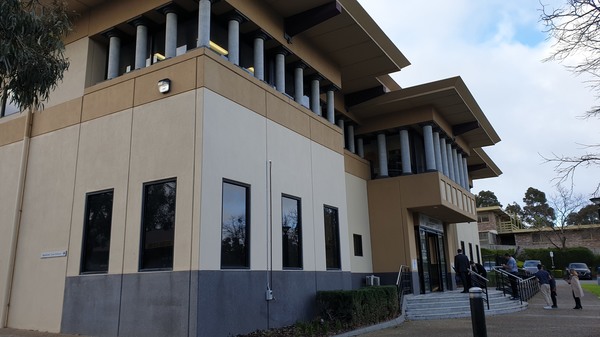 By Cam Lucadou-Wells
A drug-addicted burglar says he has no memory of stealing a bottle of perfume and a bank card from a nursing home's residential unit in Dandenong.
Andrew Daniel Schulberg and a co-accused were believed to have followed a staff member into the nursing home about 2.15am on 9 May, Dandenong Magistrates' Court heard.
Later that day, more than $170 was spent on the stolen bank card at a milk bar, two supermarkets and a KFC outlet in Dandenong.
Schulberg was arrested, in possession of a kitchen knife and methamphetamine, after reportedly harassing customers in Dandenong Plaza on 7 June.
Police didn't interview him at the time due to his apparently drug-affected state. Schulberg had the knife due to being at a barbecue at the time, a defence lawyer told the court.
He later said he couldn't remember the aged care burglary due to his drug addled state, the court heard.
Schulberg also pleaded guilty to possessing three folding knives, breaching bail, skipping court, drug possession and resisting two police officers.
At the time of his offences, he was on a community corrections order for trafficking 900 diazepam tablets and handling stolen goods in 2015.
Defence lawyer Siva Kandasamy, in seeking a further CCO sentence, told the court on 10 September that Schulberg had a 15-year drug problem with heroin and cannabis.
He'd been clean for 18 months before a relapse. In July 2018, he'd failed to show up for a medical detox during a CCO, the court heard.
Schulberg was also diagnosed with ADHD, bipolar disorder, anxiety and depression.
"If his drug issue is addressed, he's a good prospect of rehabilitating," Mr Kandasamy said.
Magistrate Sharon McRae noted that it was the fourth time that Schulberg had breached a CCO.
"The court is giving him years to have a go at this CCO … and each time he doesn't complete what he has to do.
"He's been given opportunity after opportunity to do it again and he hasn't turned up."
Schulberg was jailed for 30 days – which had been already served in pre-sentence detention.
He was placed on an 18-month CCO including a six-month night curfew, drug treatment, supervision, judicial monitoring and 67 hours of unpaid work – which was remaining from his previous order.
"You need to completely change your attitude with your compliance with the Office of Corrections, otherwise it will come back to me and I'll put you in jail," Ms McRae said.
"This is your last chance."