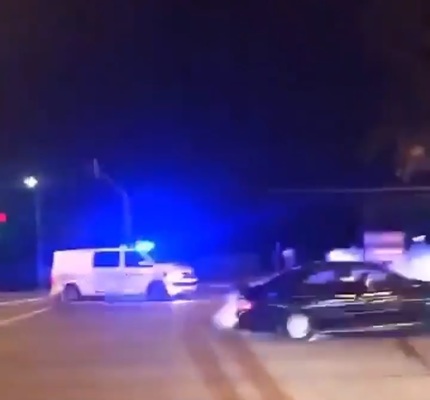 By Cam Lucadou-Wells
Police impounded five cars and charged several alleged hoons on Springvale roads during several incidents on Friday 17 January.
One of the investigated incidents includes a vehicle dropping a burnout and spinning out of control into an intersection.
A Facebook-posted video shows the screeching vehicle narrowly missing another driver passing by, as onlookers cheer and film the scene on their phones.
A police vehicle was metres away at the time.
Police say they originally moved on a congregation of up to 400 vehicles in a car park on the corner of Smith Road and Princes Highway about 10.30pm.
During patrols of surrounding areas, police pulled over and charged three drivers with speeding at more than 145 km/h in an 80 km/h zone.
Another driver was charged for loss of traction, and another for driving disqualified.
All five of the cars were impounded by police.
Other drivers were intercepted and charged with offences such as running a red light and drink-driving.
As part of Operation Sumatra, extra police resources are being used to target high-risk driving, police say.
Video captured on police body-cams will be used to further investigate the incidents.
Any information to Crime Stoppers on 1800 333 000 or crimestoppersvic.com.au.