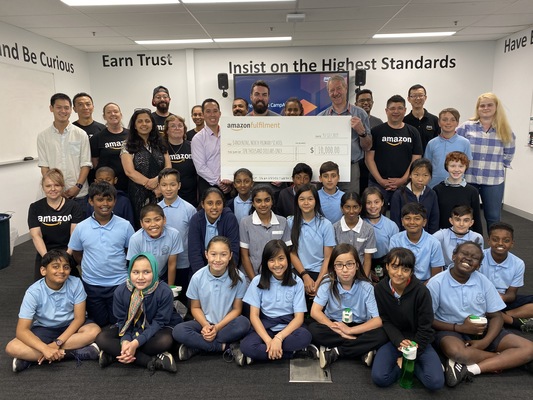 By Taylah Eastwell
The dreams of some Dandenong North Primary School students to become scientists, mathematicians, engineers or tech-savvy entrepreneurs are now a closer reality, thanks to a $10,000 gift from Amazon Australia.
As part of Computer Science Week last month, students across Australia participated in Hour of Code – a one-hour introduction to computer science run by participating schools, proving that anybody can learn the basis of computer science and coding.
In celebration of Hour of Code, Amazon Australia held a special Camp Amazon workshop for 26 Year 5 students from Dandenong North Primary School, in order to support their skill development in the subjects of science, technology, engineering and mathematics.
During the camps, students learned coding skills and put these into practice with an Alexa skill session, and were also tasked with the challenge of coding their own dance party. The camp aims to introduce, inspire and encourage young Australians to pursue careers in these growing fields.
This year, Amazon Australia also donated $10,000 towards the school to allow for the purchase of equipment that will further develop student skills in these areas.
Operations director at Amazon Australia Craig Fuller said he looks forward to seeing the students skills develop thanks to the donation.
"We recognise that the jobs of tomorrow require a strong aptitude for STEM. We see it in our growing business, and want to be part of the solution and to set up children for long-term success," Mr Fuller said.
Principal of Dandenong North Primary School Kevin Mackay said he was confident the students attending the workshop will be able to share what they have learnt with the rest of the school when they return to school.
"This is the sort of opportunity that often results in the development of a life-long passion for a particular field of study," Mr Mackay said.
"Because of the very nature of the STEM subjects, there is a particular level of resourcing that is required to provide access to instructors with the necessary expertise and the equipment to provide opportunities that can translate theory into practical action."