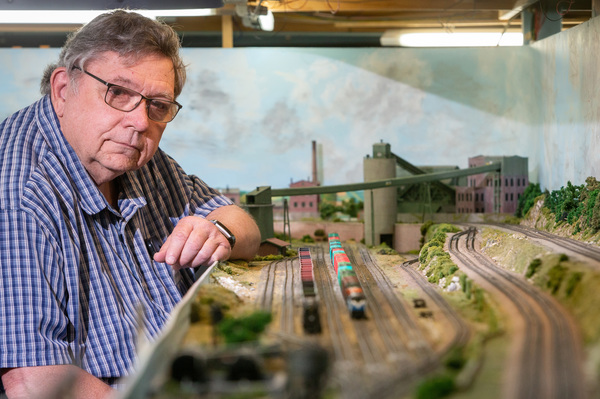 By Cam Lucadou-Wells
A popular surge in Scouting may force an enduring model-railway club to change stations.
For the past 19 years, the Waverley Model Railway Club Men's Shed has nestled in the Scout hall in Carlton Road, Dandenong North.
The hall, that once hosted meetings for Cubs and Scouts, is now jam-full with signals, trains and meticulous trackscapes tended by retired engineers, electricians and other rail buffs.
Four times a week, they run their trains and maintain the spectacular sceneries.
But landlord Scouts Victoria has signaled that it may soon want its hall back.
Executive officer Jon McGregor said it had declined to offer the 50-year-old model-railway club a long-term lease due to Scouts' revived popularity.
"Scouting has been growing for 13 consecutive years. So, any available Scout hall is being re-activated.
"Our plan is to re-activate that Scout hall. We're not going to throw them out on the street but we need the hall back at some stage … we don't have a date."
Martin Jones, president of the 60-member railway club, says he needs to know soon whether it was staying or going.
"If we have to move, we have to know now," Mr Jones says.
"It will take us a year to move all of this stuff."
Greater Dandenong Scouts' former district commissioner Bill Graham originally signed the deal for the model railways to move into the hall 19 years ago.
At the time, the hall was in "disrepair" and needed "a lot of maintenance", he said.
"I had seen the opportunity to put (money) into District coffers … and making use of a hall that would have been an eyesore in the area had it still been left vacant."
Mr Graham said he didn't want the club to "lose out".
"The club has been an asset. The hall and grounds are neat and tidy, and the neighbours surely must have had a sense of security given that the members were always around.
"I would seriously encourage a rethink on the decision to move the club."
In December, Greater Dandenong councillor Zaynoun Melham raised a motion for the council to either help in negotiations with Scouts Victoria or for the club to find a new home.
He said the "self-sufficient" group had invested about $20,000 in improvements at the shed, without any council grants.
"They're a great group of mates. And they do some great things.
"They have one of the best model train sets in the state."