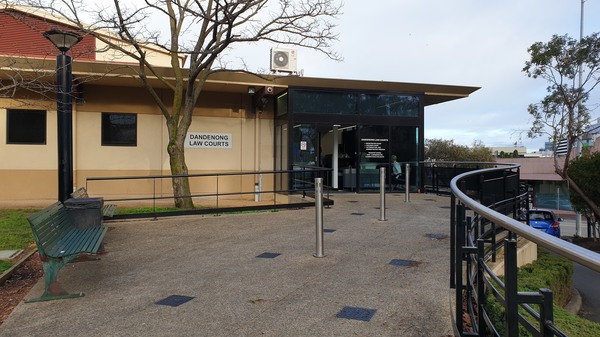 By Cam Lucadou-Wells
An Endeavour Hills man has been refused bail after allegedly king-hitting his ex-partner, slinging her unconscious body over his shoulder in "caveman" fashion and bundling her into a car.
Prior to his arrest, the 22-year-old factory worker was accused of attacking a female police officer and was then bitten by a police dog.
He sported a large bandage on his arm as he sat in the Dandenong Magistrates' Court dock on 11 February.
The ex-partner had started driving the man back to his home after a party in Beaconsfield about 2.20am on Sunday 9 February, the court heard.
He sat in the car behind her seat. After a short distance, the man got angry and forced the driver's seat forward, causing her to stop abruptly, police told the court.
They got out of the car. He allegedly pushed her forcibly to her chest, causing her to fall to ground. He picked her up and shoved her down again, police alleged.
The man drove them to Hampton Park, and dragged her out of the car. After she stood up, a witness allegedly saw the accused "king hit" her with a right fist that knocked her out.
"I hate you," the accused yelled into the victim's face – according to police.
He allegedly picked her up over her shoulder and placed her in the car. He closed the door on her foot, causing her to yell in pain.
A dog from Victoria Police's Canine Unit located the accused in Bride Avenue, Hampton Park.
The man allegedly "rose from long grass" to attack the dog's female handler, striking her to the chest and grabbing her upper body.
In response, a police dog mauled the man's arm.
He allegedly continued to resist arrest when other police officers arrived. He was taken to hospital for surgery.
In December, the man had thrown a cigarette lighter into the partner's face during a drive in Endeavour Hills.
He was convicted, put on a good behaviour bond with an order to attend a men's behaviour course.
An intervention order was issued to protect the woman.
In opposing bail, Victoria Police remand liaison officer Sergeant Will Harvey told the court that the man committed family violence "time after time".
Even after conviction, the man's offending had escalated, he said.
The accused showed "no fear" of potentially causing the ex-partner serious injury, Sgt Harvey said. He'd failed to render assistance for the woman after she was struck unconscious.
"He picked up her limp body and put it in the back of the car."
A defence lawyer said the man had depression, anxiety and a limited criminal history, with little access to treatment and offender-behaviour programs.
He lived with family, who would help ensure he complied with bail and the intervention order.
Magistrate Costa Kilias found no compelling reasons for bail after the man's "abominable" behaviour. He described his picking up of the knocked-out victim as "caveman-like".
"It's my view that his propensity for violence, to females in particular, makes him an unacceptable risk to the community."
He ordered medical attention for the man's possible head injury due to a skateboarding accident on 9 February.
The man was remanded to appear at Dandenong Magistrates' Court on 10 March.