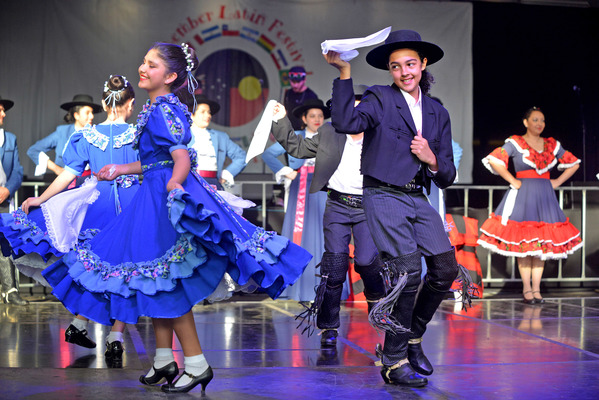 By Cam Lucadou-Wells
Councillors faced off in a fiery tango over whether to provide $20,000 extra for the popular September Latin Festival or to charities providing Covid-19 relief.
It was a choice of either "bread" or "circuses", as Cr Peter Brown put it.
At a 14 September council meeting, Cr Maria Sampey unsuccessfully moved for the festival staged at Sandown Racecourse to receive a $60,000 sponsorship grant over two years.
The council instead voted for $40,000 as originally recommended by its officers.
Cr Sampey spoke out against a counter-bid for an extra $10,000 each to the Springvale Benevolent Society (SBS) and Keysborough Learning Centre (KLC) for emergency food relief.
The council had given more than $330,000 material aid to charity groups during Covid-19, she said.
"You're grandstanding before the election.
"I wouldn't oppose giving funding to a benevolent society at any other time."
With the vote going against her, she relented in favour of funding the charities.
Cr Tim Dark said the SBS and KLC expressed "extreme dismay" that their services had been cut under the council's proposed community partnership funding.
"I never, ever thought I'd see a councillor on this council oppose giving money to a benevolent society – and $10,000, mind you … during a Covid-19 pandemic when people are struggling to put food on their table.
Despite Greater Dandenong being among the hardest hit, SBS's funding was slashed from $19,000 in 2019-'20 to $26,000 over the next three years.
The Keysborough Learning Centre had suffered a 50 per cent cut – with $19,500 for emergency food relief and $41,000 for a seniors outreach program over two years.
Cr Sampey had argued the volunteer-run Latin festival required extra sponsorship due to its venue's expensive rents.
The festival celebrated 13 Latin countries and attracted audiences across Melbourne.
"An extra $10,000 is not going to kill the budget."
Cr Sean O'Reilly said the festival got "substantial" State Government funding on top of making a surplus.
"We don't have unlimited money at council. We should not make ad-hoc decisions to throw $10,000 on top of an already profitable festival.
"We should be targeting organisations propping up the community, doing the hard yards."
Cr Peter Brown said the council had the choice of funding either "bread" or "circuses".
He backed funding two "critical" groups SBS and KLC for "putting bread on the table."
In total, the council granted $452,000 in sponsorships for 12 applicants in 2020-'21 and 2021-'22.
The council also committed $468,000 in building-capacity grants to 10 community groups over the next three years, and $2.1 million in strategic project grants to 25 applications.