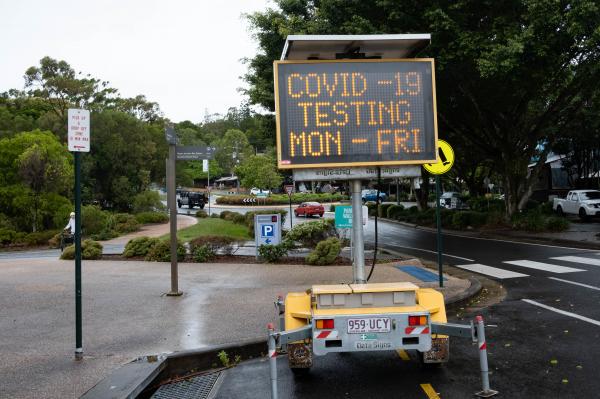 By Cam Lucadou-Wells
Health authorities are scrambling to contain a potential Covid-19 spread in the South East after a Noble Park man working in tennis-player hotel quarantine tested positive.
The Department of Health has released a list of at least 14 'Tier 1' exposure sites that the 26-year-old man visited in Noble Park, Keysborough, Brighton, Brandon Park, Springvale, Moorabbin, Clayton South, Melbourne and Heatherton between 29 January-1 February.
In a late-night press conference, Premier Daniel Andrews said it had to be assumed that the man had infected others.
He urged people who visited the exposure sites at specific times or have Covid-19 symptoms to get tested "first thing" this morning (4 February).
Mr Andrews announced the immediate reintroduction of mask-wearing in all indoor settings and a 15-visitor limit in households and a pause in the 75 per cent return-to-work cap.
"This is one case. There's no need for people to panic … to be alarmed.
"There's nothing more important… if you have symptoms, even very mild symptoms, please get tested first thing. That's how we'll pull this up."
Victoria's Covid-19 testing commander Jeroen Weimar expected a "very busy day" at testing stations on 4 February.
Covid testing sites will have extended opening hours and extra drive-through lanes. Extra testing sites opening in the South East, Mr Weimar said.
The infected man had last worked on "hallway duty" as a "fully trained" Government-employed Covid-19 Quarantine Victoria (CQV) residence-support worker at the Grand Hyatt Hotel on 29 January.
The man tested negative at the end of his shift. He later developed symptoms and was tested on 2 February.
His positive test result was returned late on 3 February.
A CFA volunteer, he had attended a CFA social function at Club Noble in Noble Park between 2.36pm-3.30pm on Saturday 30 January. This venue is listed as a Tier 1 exposure site at that time.
An updated list of 'Tier 1' exposure sites and times also included:
• Exford Hotel in Melbourne (29 January, 11pm-11.35pm)
• Kebab Kingz in Melbourne West (29 January, 11.24pm-12.15am)
• Aces Sporting Club's golf driving range in Keysborough (30 January 10pm-11.15pm)
• Northpoint Cafe in Brighton (31 January, 8.10am-9.30am)
• Kmart at Parkmore shopping centre, Keysborough (31 January, 4pm-5pm)
• Kmart at Brandon Park shopping centre (31 January, 4.35pm-5.10pm)
• Coles Springvale (31 January, 5pm-6pm)
• Nakama workshop, Clayton South (1 February, 11.15am-12noon)
• Bunnings Springvale (1 February, 11.28am-12.15pm)
• Lululemon at DFO shopping centre, Moorabbin (1 February, 5pm-5.45pm)
• Melbourne Golf Academy in Heatherton (1 February, 5.19pm-6.36pm)
• Woolworths Springvale (1 February, 6.30pm-7.30pm)
• Sharetea cafe in Springvale (1 February, 6.50pm-7.30pm)
"Anyone who has visited these Tier 1 exposure sites during these times must immediately isolate, get a coronavirus (COVID-19) test, and remain isolated for 14 days," the Department of Health's website advises.
"The locations on this list are not a current risk to the public and you can visit them in line with current restrictions."
Chief Health Officer Brett Sutton said the 26-year-old man's testing showed a probable "high viral load".
"For his very close contacts there is a risk that they could potentially become cases."
The man is isolated in a health hotel. His work colleagues and household members are being tested and isolated.
About 600 Australian Open tennis players, officials and support staff staying at the Grand Hyatt are considered by the Department of Health as "casual contacts". They are required to be immediately isolated and tested.
The case brings an end to Victoria's 28-day period without local community transmission of the virus.
The latest Tier 1 exposure sites are listed at www.dhhs.vic.gov.au/case-locations-and-outbreaks-covid-19
Covid testing site details are at www.dhhs.vic.gov.au/where-get-tested-covid-19