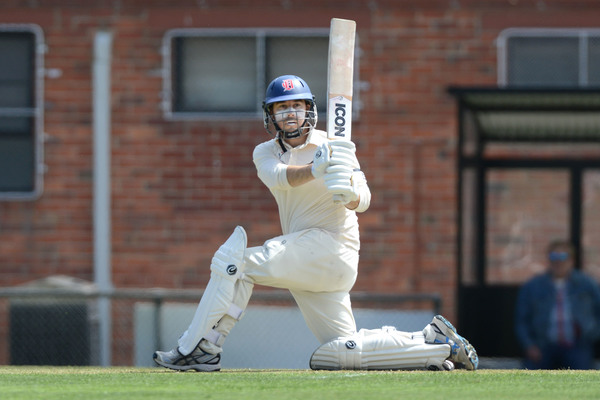 By Nick Creely
Champion Dandenong batsman Brett Forsyth has gone from a cricket-obsessed kid riding his bike to training at Springvale South to a Ryder Medal winner with an incurable thirst for runs.
It's no mean feat; it's a culmination of how much blood, sweat and tears he has put in to succeeding in the game he loves.
At the recent Ryder Medal, the dynamic opening batsman – who could be eyeing off 10,000 Premier Cricket runs in the next few season – became the first Panther to snare the top-gong after a truly remarkable season that netted almost 1300 runs in the toughest spot for a batsman to shine.
"I guess you know you've had a really good season, but to edge (some stars of the competition) out was really humbling and almost a bit embarrassing at times," Forsyth told the Journal.
"The real reason we play is to win games of cricket and go deep into finals, so it's very different being an individual award, but I guess it sits a bit easier because I'm proud to win it as a Dandenong player."
Talk has fuelled over whether Forsyth should be playing state cricket, and rightly so – opening batsman with such consistency over a long-period of time don't grow on trees. But rather than focus on things out of his control, he is determined to remain grounded and focused on his job at hand next season.
"I wouldn't say it's changed anything – with my performance, it's always been at a level where playing higher could be a potential outcome, but I've seen the pitfalls from many players, myself included, and when you look at doing that, you can take your focus of what your primary job is, and for me, that's to score runs," he said.
"For me, (the Ryder) hasn't added any extra pressure on playing higher, it's just a positive that's it been spoken about, and I know a lot of other players have been spoken about for their performances.
"To be honest, I'm a teacher and I'm enjoying that career at the moment, but if anything were to come up, like all players, I'd take it with both hands, but I'm not expecting that to happen."
A strong culture – that all-important ingredient that brings successful sporting clubs from mediocre to revered – is one that draws Forsyth to Dandenong, it's what has kept him at Shepley Oval throughout his whole young adult life.
"What we've been able to do is get some really good coaches in place – the key to our club is keeping our more senior players at the club, because that means they can lead from the front on the field, but it helps to develop some off-field skills, whether that's at training, or just mentoring them," he said.
"The coaches (Nick Speak and Paul Boraston) need to take credit for their work – they leave it up to the players to find ways to best develop, so the onus isn't on them, and it then creates a culture where everyone helps everyone.
"It's just about building a good culture, bringing in some good players, and making it all work – we probably have three different age brackets, and those groups seem to get on well and help.
"It's like an AFL list really, if they gel and all work well, it'll bring some really good results. With Liz Williamson, Gary Davidson, Mick Findlay and all the board off-field, they've made a huge effort to make it a great place to be. We don't have any barriers to stop anyone from progressing and performing."
Forsyth – who is a Springvale South junior – said he owes a lot to the Bloods at Alex Nelson Reserve, describing them as yet another family for him.
"Winning the Ryder gave me the chance to thank my club, and also my home club, and that's something you don't get to do too often," he said.
"I was really lucky that I grew up around the corner from Springvale South. When I was younger I'd just ride my bike down to training four nights a week. That's where I started enjoying my cricket, and made me realise I could make something out of playing the game.
"I was lucky to have to great coaching from a young age – Danny Law would coach me during the week and give me tips that not a lot of six to 12-year-old's would get at that age, so I was lucky they took me under the wing."