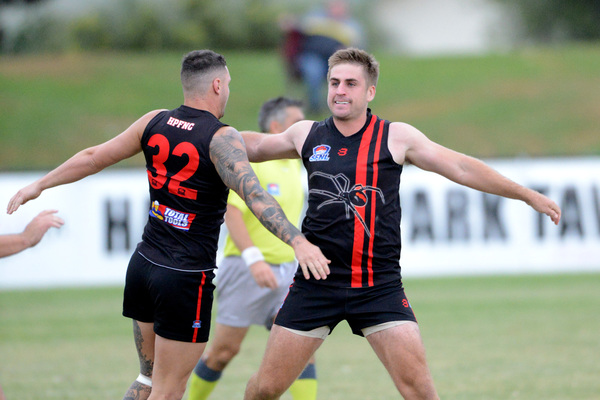 By Hayley Wildes
In Round 5 of the Eastern Football League, Noble Park was no match for Vermont.
The Bulls, who won their first three games of the season, slumped to their second loss in a row as Vermont ran out 15.25 (115) to 9.9 (63) winners.
Bailey Lambert (three goals) was impressive up forward for Noble Park, while Jackson Sketcher and Ariek Lual battled hard all day.
Rowville also suffered its second consecutive loss, falling to Norwood. The Hawks were in the contest at three quarter time, trailing by just 11 points, but a six-goal to one final term saw Norwood storm home, 12.12 (84) to 6.10 (46).
Despite the disappointing fourth quarter fade-out, Mason Crozier and Bailey Morrish were best for the Hawks.
In Division 2 of the Southern Football League, Springvale Districts – despite inaccuracy in front of goal – scored a win over Hampton at home, 8.15 (63) to 7.3 (45).
Leading by one point at the final break, the Dees finished strongly to run out 18-point winners as Matt Wetering (three goals) dominated, while Matthew Thompson and Tom Wilkinson played key roles all day.
In Division 3, it was a barnstorming day for local teams as Endeavour Hills and Hampton Park both recorded massive wins.
Endeavour Hills piled on 12 goals and held Ashwood to just one-point in the first half of their clash to lead by 73 points at the main break.
With Daniel Morrison (seven goals) and Jarrod Marolla (six goals) running riot, the onslaught continued in the second half as the Falcons ran out 120-point winners, 23.5 (143) to 3.5 (23). Daniel Strom and Daniel Cann were dynamic for Endeavour Hills.
Not to be outdone, Hampton Park absolutely obliterated Cerberus.
The Redbacks came out firing in the first half, slamming on 15 goals to one to hold an 84-point lead after the first half of play. Nathan Carver (six goals) was one of 14 individual goal-kickers as Hampton Park won 25.12 (162) to 2.5 (17).