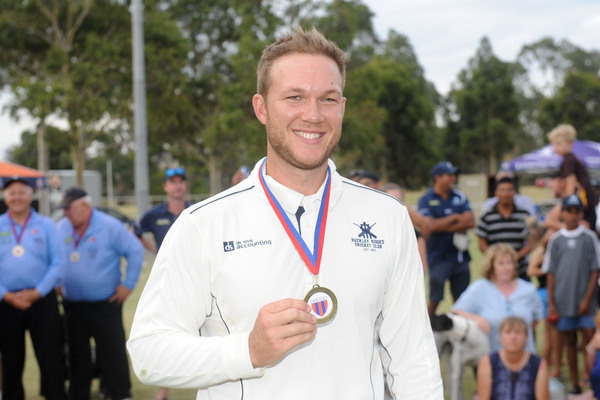 By Nick Creely
He's coming back, and it's not good news for bowlers.
The Dandenong District Cricket Association's biggest weapon, Buckley Ridges captain-coach David White, will return to lead the reigning Turf 1 premiers next season off the back of a record-breaking first season.
The South-African, 28 – who played 85 matches of first-class cricket in his home country before retiring in early 2018 – plundered an astonishing 1252 runs at 125.2, almost unheard of numbers at any level of cricket.
With White locked in for a return that is going to frighten the most seasoned of bowlers in the DDCA's top grade, the Bucks have retained bar one of its premiership side, with seamer Jurgen Andersen the only to depart to a rival club in another association.
In further denting news to the bowlers of the south-east, Narre South – the newcomer to Turf 1 – has confirmed the news that Jersey international star Jonty Jenner will also be returning to the club, putting to bed rumours he may have been heading to a rival club in the DDCA.
Currently overseas representing ICC Associates Jersey and producing strong results, the emerging star was a major factor in the Lions' premiership success in Turf 2 in his first year in Australia, cracking 632 runs at 45.14 while also taking 16 wickets at an incredible average of 6.44
The Lions have also announced a trio of signings from Narre North, bringing in Matt Brooks as playing coach, paceman Joel Zietsman and opener Kyle Hardy, further strengthening the list as it looks to make a splash in the top grade. Gun all-rounder Kirk Dickson will return to the club after a year off in another major boost.
Off the back of consecutive grand final defeats, Springvale South has made some major changes to its coaching and playing stocks, in what is likely to be a new look-side next season.
Leicestershire County batsman Ateeq Javid has been signed as captain, with club legend Craig Slocombe to continue on in just a playing capacity after a stellar 13 years at the helm for the Bloods. Javid previously played a season at Narre Warren, scoring 635 runs at an average of above 70.
The Bloods have lost former international pair Malinga Bandara, Michael Vandort and association legend Steven Spoljaric, but have confirmed gun opener Nathan King will partner Javid at the top of the order after speculation he could be on the way out. Springy will also have a new look coaching structure, with former Turf 1 premiership player Rory Ingram taking over as head coach, while Anthony Hamilton will be an assistant coach.
Berwick – always a major club in terms of recruiting – have brought in DDCA Turf 1 champion Ruwantha Kellepotha, who came off a brilliant season with bat and ball for St Mary's in a recruiting coup, while the fast bowling stocks has been further strengthened by the return of James Wilcock, who is coming off a short stint back with Dandenong, as well as the re-signing of former Casey-South Melbourne club champion Brendan Rose. Champion cricketer Nathan Pilon has retired, but the Bears have plenty of openers underneath ready to take the next step.
In other news across Turf 1, North Dandenong is on the hunt for a new senior playing coach, and are believed to be close to an announcement. The Maroons – however – are understood to be looking to develop within from a playing list perspective with one eye fixed firmly on the future.
In Turf 2, Cranbourne has welcomed in a new coach, with Sandun Dias signing on for 2019/20. The 34-year-old Sri Lankan, currently living in England, is a former McKinnon premiership coach and Under 19 international representative with first-class cricket under his belt. Another club that has announced a new coach is Dandenong West, with former Mordialloc gun Hari Krishan signing for the club.
Turf 3 club, Beaconsfield – as they often do – have already made some noise this off-season, with Englishman Wyll Stanway – currently playing for Furness in Northern England – joining the club to help boost its batting stocks, while Nathan Goodes has been announced as the new Tigers' head coach. Devon Meadows trio – who were all former players at the club – Brad Miles, Jason Dodd and Ryan O'Connor, have also been signed.The Tigers are expected to announce more names in the coming weeks, and are on the hunt for an opening batsman.
Parkfield have also brought in an overseas recruit, with Jordan Tear – a swing bowling all-rounder – signing on for next season.
Silverton – looking to bounce up the table in 2019/20 – have brought in a stack of new players, with all-rounder Dilum Weerarathne, Dilip Tharaka, Jack Munnings (Twenty20 only) and youngster Ben McCarthy.