By Tyler Lewis
He's made 15,277 runs at 43.42, with a high score of 218, 73 half-centuries, 41 centuries, two double-centuries and 166 bat raises in the middle.
Warren Ayres's numbers speak for themselves.
Involved in a handful of premierships, it seemed whenever Ayres opens his mouth to shed wisdom, or swung his blade, success is the ultimate outcome.
The current Carlton batting coach returned to Shepley Oval on Saturday, the scene of some of his finest cricketing moments. But it didn't all begin there for the right-handed superstar, but less than a kilometre down the road as a youngster with mighty dreams to wear the baggy green.
"I had a drive to try and play for Australia; it was as simple as that," he said.
"I suppose as any young kid who starts their journey, you hope you're good at it, you try really hard when you are a junior and I suppose I tried really hard, I trained really hard and got to be pretty good at it.
"You start ticking off some of the goals you want to achieve and obviously playing Premier Cricket, cricket for your state and then cricket for Australia is the goal of any boys dream.
"I think anyone in my age bracket all loved Greg Chappell when I was really young, so many people tried to emulate the way he batted because he looked so majestic. There is no doubt he was a person I looked at the most.
"I made it very early in life, I played at Springvale South until I was 14 years of age, then I started playing for Melbourne.
"I went into the fourth XI and worked my way through the grades, it happened pretty quickly but I am happy I was one of those people who played in every grade, I worked my way into the top grades reasonably quickly but I am happy I did it that way."
Despite the mountain of runs at Premier Cricket level for both Melbourne and Dandenong, then the additional time at Victoria where Ayres notched seven centuries and averaged 33.9, he still feels that he did a lot of things wrong that cost him more appearances at state and international level.
"When you look back on it, there were so many things I did well and so many things I did wrong," he said.
"There were so many good players in that era, probably the strongest era in Australian cricket during that time.
"There were so many players in that era that averaged really well and never got a chance. It is the era you are in, yeah you wish you had a chance at different times.
"I could've done things better, I think I thought it was going to happen when I was young and I didn't learn quickly enough.
"When I became good which was probably when I was older, they had started looking elsewhere.
"People say to me 'you had a good career', but it could've been better if I did things a bit better, and a lot of people could say that. I didn't do things badly, but I could've done things a bit better.
"In hindsight I should've moved state, but I suppose I had confidence that Victoria would pick me through weight of runs and for any other state I would have been being picked, but Victoria didn't want to, simple as that.
"That was probably the learning curve I talk about, I got picked for Victoria as a 20-year-old, I would've been better off being picked as a 25-year-old, because mentally I probably wasn't up to it as well as I should've been."
In the lead up to the 2002/03 season, Ayres decided to jump to a different red and navy club, one closer to where it all began and one that could offer him more than what Melbourne could, that of the Dandenong Cricket Club.
His time there was still impressive, crunching 11 centuries and bringing home that elusive piece of silverware back to Shepley Oval in the 2006/07 season.
"The reason (I moved) was to be coach," he said.
"At the time I was being interviewed by both Melbourne and Dandenong, I could read the small print between the lines that Melbourne was going to go in a different direction, so I decided to go to Dandenong.
"I found playing against Melbourne every time to be a difficult mental thing for me. Because of the time I spent there, I found it difficult playing against my mates every time we played against them."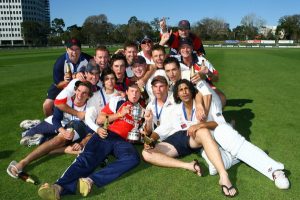 Bowlers dreaded bowling to Ayres, with many of his former teammates believing if he was to be dismissed it had to be first ball, or it wouldn't happen at all.
Despite the match situation, Ayres would bat his own way, with swagger and intent – a method that set him apart from most.
Against St Kilda at Junction Oval in 2005, big quick Adam Warren had the early wicket of Matt Chasemore and his tail up, he dropped short to Ayres who rocked back and deposited him well over the fence, which was followed by a cheeky comment mid-pitch.
"(I said) bye-bye Mr.Kookaburra," he laughed.
"Generally I wouldn't have gone looking for that banter, I would've been tight lipped and quiet.
"But if somebody was willing to have a go at me, I wouldn't take that – I would banter back or knuckle down, whatever it was.
"He (Adam Warren) was a tough competitive player and I have no doubt he would've enjoyed that."
While Adam Warren was sending them down fairly quickly that day, he certainly wasn't the fastest Ayres faced over his long career, in particular a name that sends shivers down the spine of any top order batsmen.
"I opened the batting so I am always facing the fastest, generally," he said.
"When you play against the West Indies or Pakistan, those teams there are always fast bowlers.
"Any of those guys, their reputation precedes them. But Waqar Younis and Wasim Akram, they bowled pretty quick, they certainly got my heart rate up.
"But every team has got one, even in Shield Cricket back then there were two or three at each state that had the same pace.
"Guys like Carl Rackemann and Craig McDermott, they certainly weren't easy opposition I can tell you that.
"Back then I was only a kid, so it was more me surviving to fit into the standard."
Ayres is the only Dandenong player to make three successive centuries and is also among the small group of players who have registered five centuries in one season – the art of making centuries he felt he learned later in his career.
"Every day is different, but there was probably some days in there I walked off and thought it was pretty easy," he said.
"The year I made five hundreds, I must admit, I was seeing the ball pretty well that year.
"I have a saying 'when you get in, the next time you get in if you are having a bad trot, make them pay, instead of making a 30 or a 50, you make a big score'.
"Most of those (centuries) I would've been older, I wouldn't have done that when I was younger, when I got older and I missed out in a game or two, I knew that if I got in and the next time I got to 30 the other team would have to do something pretty good to get me out.
"Everyone I talk to is about making the most of the opportunities when you are going well because cricket is a great leveller, it doesn't matter how well you are going.
"Steve Smith could come here and play for Dandenong and get a duck next week, it is just the game, a great leveller.
"You have to make sure when things are going well for you, you make the most of it.
"There is no doubt I was driven to make runs, like any of the good batsmen are they have a thirst and a hunger to score as many runs as they can and don't throw there wicket away easily and they are the better players."
After a monstrous career where runs and centuries seemed synonymous with his name, Ayres decided it was time for him to give the game away, not because of his passion towards it, but the battle he had won so many times, that between his bat and the brand new Kookaburra ball.
"My version, I don't know if it has changed since that day but I couldn't be bothered with the bowlers and creating that competition anymore, I had done it," he said.
"I just didn't have the desire to fight anymore and I just wanted to give it away. I think my days were done and I didn't want to do it anymore.
"I think I was only going to go backwards, I had doubts of continuing, whether I would lose form or whatever it might be, I just thought I wanted to get out of it.
"I have always loved the game, it can be challenging at times, as a player particularly, but I have never fallen out of love for the game for any reason."