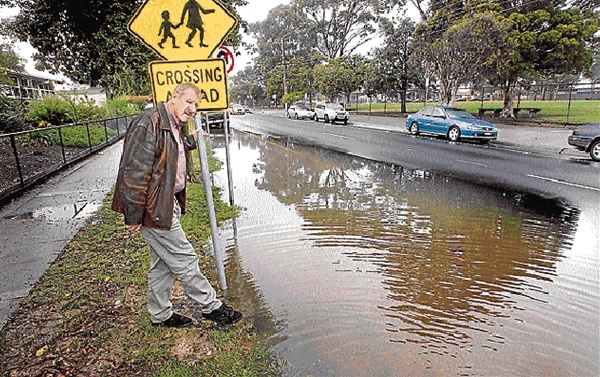 By CAMERON LUCADOU-WELLS
WHAT DO YOU THINK? SCROLL TO BELOW THIS STORY TO POST A COMMENT.
A SCHOOL principal is calling on Greater Dandenong Council to act on drainage problems after a surrounding street was half-flooded for more than a week.
Dandenong North Primary School principal Kevin McKay said the lack of parking along David Street was "chaotic enough" during any given drop-off/pick-up time, without the flooding to exacerbate it.
The street had been regularly flooded during his 25 years at the school, he said. One lane of the street, including parking spaces, was under water last week, forcing traffic to squeeze onto the wrong side of the road.
"I can't understand why in my 25 years here that the council hasn't dug up the drain and found out what's the matter with it."
Mr McKay also raised concern that a council parking inspector may have been booking parents forced to park on the opposite side of the street last Monday, which is a no stopping zone during pick-up/drop-off times.
The council's regulatory services manager Peter Shelton said an officer booked one car that day for parking in the no stopping zone. Mr Shelton said the area was regularly monitored because of its proximity to Dandenong Hospital and Chisholm TAFE.
Mr McKay said the flooding situation had been worsened by two recent factors: the funnelling of traffic into David Street due to Herbert Street's closure during school hours, a decision ratified by the council, and a Building the Education Revolution project that siphoned stormwater from new buildings into David Street.
The council's engineering services director Bruce Rendall said in a statement that the flooding had been investigated. "The flooding was caused by bottles blocking the drain. The council has since removed those bottles."
Mr Rendall said the council had contacted the school to meet and discuss the drainage issues this week.