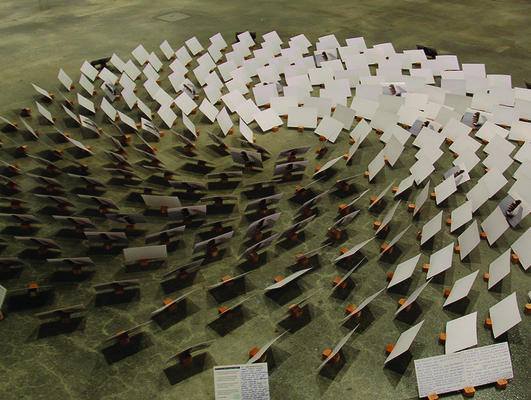 By CASEY NEILL
A spiral of postcards imploring emotional engagement on refugees has won the inaugural national Home and Art Prize.
The winners were announced at Dandenong's Walker Street Gallery on Thursday 7 July.
Home and Art celebrates the work of refugees and asylum seekers and provides an opportunity to recognize their contribution to Australia's cultural and social fabric.
Visual artist Sha Sarawari from Queensland won the $3000 first prize with a floor-based installation.
It's made of postcards he put into letterboxes with a request for them to be sent back to him explaining people's feelings about refugees in Australia.
He came to Australia as an Afghani refugee in 2000.
"In my work, I aim to explore the contemporary discourse of refugees world-wide," he said.
"My work is influenced by my personal experience of seeking asylum in Australia and the journey that I went through to becoming a refugee and, ultimately, an Australian citizen."
The $500 second prize, for a local artist, was awarded to Hussein Ali Zobea from Dandenong South for a painting depicting his former home city in Iraq.
Mahla Karimian's Persian miniature etching on scratchboard was highly commended and she will receive an artist-in-residency opportunity to further develop her work.
Greater Dandenong Mayor Heang Tak said refugees came to the municipality seeking safety, protection and the opportunity to rebuild their lives.
"Art plays a key role in helping to rebuild a life. It is a way to process experiences and envisage a new future," he said.
Cr Tak announced comedian Judith Lucy as next year's Home and Art ambassador to "create even greater awareness of the prize".
The Home and Art Prize exhibition features paintings, sculptures and video from 14 artists from around Australia.
The Walker Street Gallery is at the junction of Walker and Robinson streets, Dandenong, and is open to the public from 11am to 5pm weekdays and 11am to 3pm Saturdays. Exhibition entry is free.