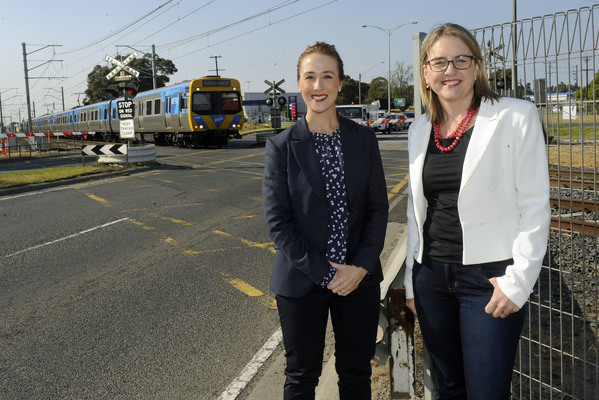 By Cam Lucadou-Wells
During a 20 minute press conference, boom gate signals hold up long lines of cars and trucks five times.
You could say the bells are certainly tolling for the removal of South Gippsland Highway's congested level crossing in Dandenong South.
The State Government unveiled the intersection's redesign – a road bridge clearing the rail line coupled with a new-look, safer intersection at Princes Highway.
It is expected to be completed by 2022.
According to the Government, the level crossing was the site of four crashes and more than 40 near misses in 10 years.
The boom gates are down for a third of the morning peak period for a key freight and commuter route into the suburb's manufacturing precinct, which holds 31,000 vehicles each weekday.
The South Gippy-Princes highways intersection was the scene of one fatality and four serious-injury crashes in the past decade.
As a vast safety improvement, the tight kink at the junction will be straightened. Plus, no longer will left-turning vehicles merge into fast-flowing traffic on Princes Highway.
The area had been identified as one of the main bug-bears for Star News readers in our recent Unlock the Gridlock campaign.
Public Transport Minister Jacinta Allen said the road-over-rail design was chosen because it was a quicker construction. It would result in a lesser period of traffic disruption, and minimal closures of the Pakenham rail line.
The road bridge will also be built next to the current alignment, minimising road closures during the project.
Other treatments wouldn't have provided the value-added opportunity to improve the Princes Highway intersection, Ms Allen said.
"This project will save local transport operators and business in the manufacturing heartland of Victoria time and money."
Dandenong MP Gabrielle Williams said the upgrade would also shave up to 30 minutes in delays for workers commuting into the precinct.
Negotiations had taken place to acquire three business properties as part of the project.
There are also plans to remove the other traffic-jamming level crossings in the region, including Greens Road, Webster Street and Evans Road, as well as to duplicate the Dandenong-Cranbourne line.
Work is expected to start on the South Gippsland Highway project in 2020.