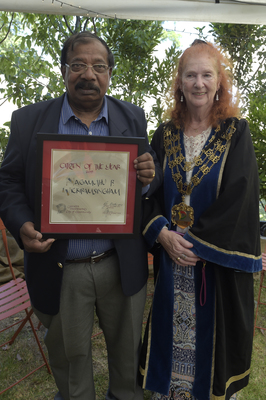 By Cam Lucadou-Wells
A Greater Dandenong councillor has called for a street to be named after his long-standing former colleague Roz Blades.
But there is a significant but perhaps not insurmountable hurdle.
At a council meeting on 28 October, Cr Loi Truong said many residents had asked about Cr Blades since her sudden resignation as mayor and councillor in October.
She had served as councillor on the cities of Springvale and Greater Dandenong since 1987.
"One raised … that I should support a name of a street in her name," Cr Truong said.
"Should we change the policy to allow her to have the name while she is alive?"
Mayor Youhorn Chea agreed that a street name in Springvale or Noble Park would be a fitting tribute.
However other councillors pointed out that it wasn't possible because she was very much alive.
According to Victoria's place-naming rules, street names can commemorate people held in "strong regard" by the community.
Living people should be avoided for street names because "community attitudes and opinions can change over time", the rules state.
However the naming authority – with the consent of the named person – can seek an exemption from the Registrar of the Office of Geographic Names.
Cr Sean O'Reilly added to the tributes. He said that he'd been criticised by a resident for not being like Ms Blades.
"I said I'll try and I'll continue to try but it's quite a high benchmark to meet."
Ms Blades was "one of a kind" and a "giant of the community".
"Her absence will be felt deeply."
Greater Dandenong's 2019 citizen of the year Wicki Vickramasingham said Ms Blades helped many groups and charities representing refugees, asylum seekers and ethnic communities.
"She has been one of the best advocates for us in the South East."
Mr Vickramasingham first met Ms Blades a year after she was first elected onto Springvale Council. She set a tall example for other councillors, the former Southern Migrant and Refugee Centre board member said.
"She's done a very good job for the community – not just the ethnic community but the broader community.
"She loved the job. She loved to work for the community, she devoted her life to the community and developed friendships with the community.
"We all wonder how we will fill this gap."